On May 20, 2013 Jennifer Lukehart Arrested Development's Set Decorator was interviewed about how she decorated the new Season Four sets and how she replicated Lucille Bluth's Penthouse in two weeks.
About
The show returns this Sunday, May 26, to Netflix. We talked to set decorator Jennifer Lukehart about the Art Deco look of a certain apartment, why you should use dark lampshades at home, and how she replicated the Bluth penthouse in just two weeks. Plus, see photos from the set design. Home Beautiful
The Interview
Home Beautiful: Can you explain how your design process worked for this?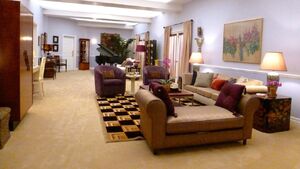 In a number of ways, this was not the way a regular show is done. The story existed already, and it was for Netflix. The main thing was that we didn't own any of the actors. Normally, when someone's on a TV show they go to work and shoot every day, but because everyone was so busy, this was done more in pieces. We had Jason for three weeks, and then he went to direct a movie. We had Will when he wasn't doing Up All Night. Usually, you establish your main sets, and with each new script for a project you build out what's new that week — maybe the actors go to a restaurant or to a movie theater. But the story structure for this project was different. I came on about two weeks before we started filming. My initial biggest challenge was trying to duplicate the penthouse and the model home.
Home Beautiful: So you had to go and find similar sets and pieces from the earlier seasons?
Yes. Nothing had been saved. The original sets were done in 2003, and they looked dated even then. For example, the penthouse sofa was very classic — the upholstery is a stripe with a damask pattern over it, very tone-on-tone. I thought it would be no problem to find the fabric. Then I went to every textile store, where they all said, "We sold a ton of that 10 years ago." No one had it anymore! Finally I found a fabric with a similar background, and brought it to Astek, which usually does printing for wallpaper. We all thought that, theoretically, they should be able to print the brocade pattern onto the fabric, but they hadn't done it before. I ended up getting enough done for just the back pillows. My upholsterer would have killed me if I had asked him to do the whole sofa with the time that he had.
So the sign of success was having it look the same?
Yes. At first I was so fixated on that idea that I was worried, because I only had three things that matched exactly. But once everything was all in there together, the overall feel of it was: "I'm in the Bluths' penthouse." But I still didn't know how the actors would feel, since they had shot on that original set for three years. Some of the furniture was sized differently, for example. I had all sorts of crazy thoughts in my head, telling me it was going to be a disaster. And then it wasn't. All the actors sort of got emotional walking onto the set together for the first time, and that made me feel very good.
Images
→ See 11 pictures from 2013 Home Beautiful Interview at Images from 2013 Home Beautiful Interview.
External Links
Community content is available under
CC-BY-SA
unless otherwise noted.