Cast Front Row (Left to Right): Mitchell Hurwitz, Jason Bateman, Jessica Walter, Will Arnett. Cast Back Row (Left to Right): Jeffrey Tambor, Portia de Rossi and Alia Shawkat.
About
All of the cast (excluding Tony Hale, Michael Cera and David Cross who were not in attendance) of Arrested Development were in attendance on the evening of November 7, 2013 for Inside the Actors Studio with James Lipton.
Synopsis
Inside the Actors Studio with James Lipton is a TV program on the Bravo TV network. Hosted by James Lipton, who appeared as Warden Stefan Gentles in Arrested, the show explores the processes and habits of successful actors.
Bravo Media's Inside the Actors Studio, hosted by James Lipton, promises big laughs and riveting revelations when the cast and creator of Netflix's Arrested Development appear on the show on Thursday, November 7 at 8pm ET/PT. The series has won six Primetime Emmy awards including "Outstanding Comedy Series" in 2004 and Time Magazine included it in its "All-Time 100 TV Shows" list.
Lipton, who has a recurring guest role on Arrested Development as Prison Warden Stefan Gentiles, will be joined by Will Arnett, Jason Bateman, Portia de Rossi, Alia Shawkat, Jeffrey Tambor, Jessica Walter, and creator Mitch Hurwitz. In the episode, series creator Mitch Hurwitz unveils his real-life inspiration behind the Banana Stand and the personal meaning behind the name "Maeby." Find out the stars' favorite Season 4 moments, which cast member swore off television after many false starts, who moonlights as a teacher, and the genesis of Portia de Rossi's name. - Bravo - Inside the Actors Studio
Arrested Development Cast Discuss Their Characters
Arrested Development Cast Fun Facts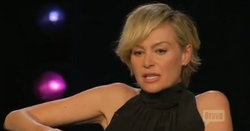 Extra Fun Facts
More Quotes
Promo Pictures
→ See 68 pictures from 2013 Inside the Actors Studio at Images from 2013 Inside the Actors Studio.
The Panel
Cast and Crew Throwback
Videos
For more clips visit gloublog.net
External links