The Arrested Development Documentary Project is a documentary made by Jeff Smith and Neil Lieberman, two die-hard fans of the show. This documentary contains interviews with fans of the show as well as cast and crew of the show.
In March 2013 the directors/producers brought their project to Kickstarter for $20,053 in funding to procure rights to use photos from Arrested Development. They raised $35,486 thanks to 1,079 backers. The documentary was released May 4, 2013 and is available for download and streaming at arresteddevelopmentdoc.com
Kickstarter
On March 18, 2013 Neil and Jeff brought the documentary to Kickstarter.com, a crowd funding platform that has helped artists and filmmakers procure funding for independent projects. Visitors could pledge money to help them reach their $20,053 goal to help Neil and Jeff pay 20th Century Fox for photo from the Arrested Development set. On March 22 the project reached the $20,053 goal with 600 backers. Funding wrapped on April 17, 2013 at a total of $35,486 thanks to 1,079 backers.
Like most Kickstarter campaigns, project backers of the ADDP were promised something in return for their investment, depending on how much they donated. Gifts included t-shirts, DVDs/Blu-rays/digital downloads of the documentary, and screenings in LA.
Documentary description
Taken from the Arrested Development Documentary Project website:
This documentary is the brainchild of two Arrested Development superfans, Neil and Jeff! We have been fans of the show since it was on Fox in the 2nd and 3rd season. After it was stripped off the air we turned to the DVDs to get our AD fix and became even more in awe with the show. When the show was picked up by G4 and HD Net, there was no end to how many times we would see one episode.
We always find ourselves talking about the show, reciting lines and recalling scenes, which always ends in hysterical laughter. In late August, a large group of our friend were planning a trip to Yosemite. We were the only two that ended up going and we talked about Arrested Development all weekend. From this trip spawned the Arrested Development Documentary Project (this is a working name), an outlet to take our passion for the show and couple it with the countrywide fan base to educate others and make them aware of this TV gem.
The overall goal of the documentary is to provide awareness and education of this brilliant, witty and original comedy. We are looking to interview viewers, cast, crew and any other industry figures that are fans or critics of the show.
We started the interview process in Los Angeles, where we both reside. We will be visiting some cities nearby, such as Santa Barbara, San Francisco, Phoenix and Seattle. Next we will make our way eastward to visit cities such as Detroit, New York City, Boston, Nashville, Raleigh/Durham, Austin and Dallas and others dependent on the fan interest.
A little background on us. Jeff, a Western Massachusetts native, now LA transplant is an editor and has worked on a variety of reality projects. His passion is to direct full feature films. Neil is an LA native and not affiliated to the entertainment industry but works in the automotive industry. Together we are directing and producing this self funded documentary.
Images
→ See 13 pictures from 2013 The Arrested Development Documentary Project at Images from 2013 The Arrested Development Documentary Project.
Trailer
Deleted Scenes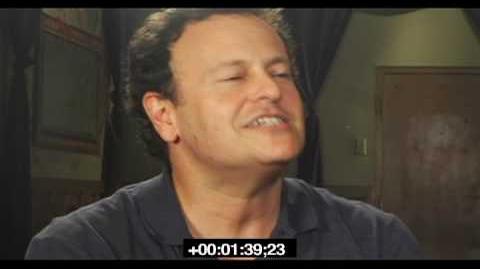 External links
Community content is available under
CC-BY-SA
unless otherwise noted.