Cast Left to Right: Jason Bateman, David Cross, Jessica Walter, Jeffrey Tambor, Tony Hale, and Portia de Rossi, Will Arnett and Alia Shawkat.
About
Before the premiere of Arrested Development Season Five the cast gathered for a magazine cover photoshoot for Deadline Magazine and Mitch Hurwitz has an interview for Deadline magazine with Joe Utichi.
Synopsis
Mitchell Hurwitz is deep in post-production on Arrested Development's fifth season, at the show's edit suite inside LA's KTTV FOX 11 studios, when we first meet. It's early April and the first three episodes of the new season are about to play for outside eyes for the first time. But if he's nervous about showing them off it isn't obvious. Really, the word for Hurwitz today is 'serene'. He never thought he'd be here, 15 years after this show first debuted on FOX, and 12 years since its unceremonious cancellation after three seasons. It's even been a whole half-decade since Season 4 debuted on Netflix, which made returning Arrested to screens a key early play in its push toward original content. - Joe Utichi (Deadline)
Images from Social Media
Interview with Mitch Hurwitz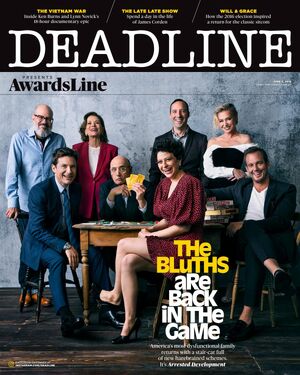 You started on Arrested Development in the Bush era, and it's hard not to see the Bluth family as an exaggerated version of a kind of privileged ignorance. Season 5 is the show's first in the Trump era. How do you separate fact from comic fiction?
That was a challenge. First of all, when we had come up with the idea of the Bluths building a wall in Season 4, it wasn't parody of the news. I love news parody, but we can't compete with Saturday Night Live, The Daily Show and everybody else who does it.
And then the other problem that we were facing is Michael Cera's 30, and if you really followed the timeline he would be… 30. There's no getting around it. In the recut of Season 4 I put in some joke about George-Michael going out on a boat in 2005 and then coming back in 2013 "weathered by his trip to the sea". His 20-minute trip to the sea.

It seemed like everyone was happy to be together at the premiere. After all the Jeffrey Tambor news, did you get the sense that there were lingering bad feelings underneath it?
It didn't appear that way to me. I mean, I would've said, "Of course not… it was great," before Jessica expressed her feelings. I'm sure the night was challenging for Jeffrey in ways that weren't superficially evident. But sometimes that can coexist with a happy reunion, and it was a fun night. These people all really care about each other. Jessica and Jeffrey have shared as much. And it was a really fun and special night. The show was so well-received, which was what everybody's work was in service of. Everyone got laughs. And in the right places.

How has your relationship with this cast developed over the years? Do you immediately fall into old patterns?
Oh, definitely. Too much so. It's like going home to a family reunion, which is a wonderful thing, but you tend to fall into old behavior. I mean, at least I did. I started off really doing things the way I'd always done them, which meant last minute scripts and changes, et cetera. But for so many reasons—many to do with the fact that guest cast availability, and even some main cast availability, changed—I was really playing catchup in our storytelling, and as a result I just wasn't on stage with them the way I usually am. They were getting script changes without context—scenes that they didn't have time to prep for. It was hard for them. And no doubt even more aggravating for them than they let on when they shared that with me.
Images
→ See 18 pictures from 2018 Arrested Development Deadline Cover at Images from 2018 Arrested Development Deadline Cover.
External Lonks