Annabelle Paul Veal was George Michael's occasional bland girlfriend and later G.O.B.'s bland fianceé.
Highly religious and entirely forgettable, she was George Michael's first love in high school although Michael couldn't stand her. Her senior year she "outgrew" George Michael and moved on to date his uncle G.O.B., who left her at the altar the following year. She was then impregnated and dumped by Tony Wonder but she would have the last laugh at both Tony's and G.O.B.'s expense.
Ann Veal is portrayed by two actresses: Alessandra Torresani in Season One's "Let 'Em Eat Cake" and by Mae Whitman for the other 16 appearances in Seasons Two, Three, Four and Five.
About
Family and faith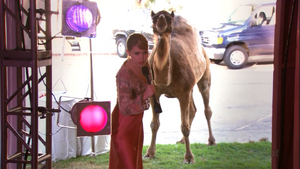 Her father, Terry Veal, is a pastor and her mother is Mrs. Veal. She is very religious and often invites George Michael to mass.("Meat the Veals") She also has a "music burning party" to burn the devil's music but the party turns into a "CD burning party" where other classmates burn CDs for each other. ("Burning Love") Their Christmas celebration is set in Bethlehem time, and includes many hours of singing and silent prayer. ("Afternoon Delight")
Although she is very religious she has an earthly lust for George Michael and later G.O.B., whom she sleeps with out of wedlock. ("Colony Collapse") She also sleeps with Tony Wonder and has his illegitimate son. ("A New Attitude")
(Lack of) personality
Maeby:
She barely has a face. You couldn't pick her out of a lineup of one.  
From "Let 'Em Eat Cake"
Ann is continually thought of as bland looking and boring by most people who meet her. ("The One Where Michael Leaves") Michael Bluth often forgets that she exists and feels that George Michael is "settling" in his relationship. ("Sad Sack") Many other Bluths forget who she is and are confused as to why George Michael would be dating her, often asking "Her?" or inquiring if she is funny. ("Good Grief") Michael constantly forgets her name and calls her many demeaning nicknames, including Egg, Plant, Plain, Ann Hog, Bland, Yam, And, Mouth, and Blank.
Relationships
Ann and George Michael start dating while watching a FOX 6 news special about the Banana stand together. They spend more and more time together but don't take things physically due to Ann's religion. When Michael finally comes to terms with his son's attraction toward Ann he gives them his blessing, which Ann takes as permission to get physical. ("Meat the Veals") It is unknown if they ever got physical, but Ann "outgrew" George Michael and moved on to see other men, namely G.O.B. ("Notapusy") ("Development Arrested") G.O.B. tried to break it off with her but ended up sleeping with her and accidentally proposing. His Amazing Jesus illusion failed and his missed his wedding so Ann fell into the arms of Tony Wonder, with whom she had an illegitimate son. ("A New Attitude")
Character History
Season One
While ordering a frozen banana from the Banana stand, Ann asked if bananas are allowed on the Atkins diet. George Michael told her that he was being interviewed by FOX 6 and that they should watch it together. Without any emotion, she agreed. ("Let 'Em Eat Cake")
Season Two
George Michael attempts to introduce Ann to his father but Michael finds her dull and refuses to believe his son could be seriously interested in her. He repeatedly forgets her name and who she is. ("The One Where Michael Leaves") While traveling down to Mexico to find George, Michael promises George Michael that he will talk to Ann while in the car to get to know her better. He doesn't, and accidentally leaves her in Mexico. To try to make it up to his son, he rides to Newport Beach in the car alone with Ann. After the trip he tells Lindsey that he can't stand Ann. ("¡Amigos!")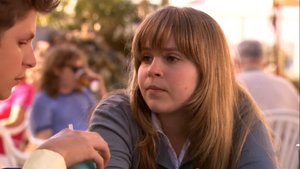 Ann dumps George Michael, and he is devastated. Although he doesn't like her, Michael tells George Michael that he wants him to be happy and encourages them to get back together. ("Good Grief") George Michael attends Ann's family's Christmas celebration, a multi-hour hymn and prayer session that takes place on Bethlehem time. ("Afternoon Delight")
During a Bluth Company softball game, George Michael barely convinces Michael to add Ann to the team roster to meet the mandatory minimum female player count. During the game Michael is forced to put Ann in. Turns out she is nicknamed "The Wall" — nothing can knock her over due to her low center of gravity. She gets G.O.B. out of the game. ("Switch Hitter")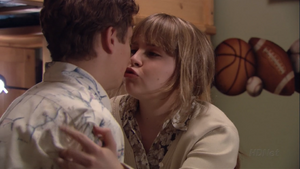 George Michael and Ann throw a "music burning party" to destroy all non-Christian music. Maeby tells people it is a "CD burning party" and other high schoolers attend to illegally share music. An upset Ann discovers that George Michael is hiding a "Jerky Boys" prank call record. They listen to it and share their first kiss. ("Burning Love")
George Michael realizes he wants out of his relationship with Ann but is afraid to tell her. He asks Maeby who suggests introducing Ann to Lucille who will criticize her and scare her away. Instead, when they meet Lucille is so frightened at the thought of losing Buster to Army that she accepts Ann's offer to pray. ("Out on a Limb")
George Michael decides to run for Student Council president with Ann as his campaign manager. She makes religious posters about him but Michael convinces G.O.B. to help make him appear as a tough guy. Ann flips over to Steve Holt's campaign and helps him make a religious video which is wildly received while George Michael's video attacks Steve Holt for not having a father. Ann gets back with George Michael because of his lightsabre skills, accidentally shown in the campaign video. ("The Immaculate Election")
When Valentine's Day rolls around George Michael tells his father that he wants to get Ann a promise ring and that he should meet Ann's parents. After meeting the Veals, Michael tells his son that he just wants him to be happy no matter whom he is with. George Michael gives Ann a promise ring and she takes Michael's acceptance as permission to get physical with George Michael, which frightens the young teenager. ("Meat the Veals")
While trying to break up with Ann yet again, George Michael found out she was planning on boycotting Almost Cousins which meant he might get a kiss from her. At the protest she was more angry than excited so he didn't get a kiss. ("Righteous Brothers")
Season Three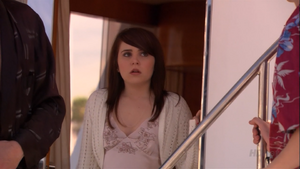 At the Church and State Fair, Ann was a contestant in the Inner Beauty Pageant. Her musical number was singing "We Three Kings" with a camel in tow. At the end of the contest she was crowned third place. George Michael attempted to talk to her but she told him that she had outgrown him. ("Notapusy")
G.O.B. had been talking about his "religious girlfriend" and it was revealed that he was seeing Ann. They met when he judged her in the Inner Beauty Pageant. She refused to get physical with him in a threesome, which he thought was a "holy trinity." George Michael found out she was dating G.O.B. and punched him in the face. ("Development Arrested")
Season Four
After George Michael punched G.O.B., Ann questioned G.O.B. on why he didn't tell his nephew that they were together, refusing to have anything to do with him until he received George Michael's forgiveness. G.O.B. tried to smooth things over with George Michael and was entirely unsuccessful but he jumped on his nephew's sarcastic "Yes" as a real "Yes." G.O.B. then realized that he didn't actually want a relationship with her and went to her home to break things off. But before G.O.B. could manage to do so, Ann seduced him and the two slept together. The next morning Ann noticed G.O.B.'s obvious discomfort and told him that she understood it if he needed some personal space, causing him to casually blurt out "Marry Me!" Much to G.O.B.'s horror Ann accepted his inadvertent proposal and they planned their wedding. (4x7 — "Colony Collapse")
Ann attended George Michael's graduation party/family meeting at Balboa Towers as G.O.B.'s fiancée. (4x12 — "Señoritis")
G.O.B. desperately wanted out of the relationship so he sabotaged the wedding by escaping during his amazing Jesus illusion. Ann instantly knew that G.O.B. had abandoned her despite her family remaining optimistic for two weeks. After he was found in a storage container several weeks later Ann visited him in the hospital and officially broke up with him for making a mockery of her, her family, and her religion. (4x7 — "Colony Collapse")
Years later, she met G.O.B. at Cinco de Cuatro with her child in tow. She revealed that Tony Wonder was her child's biological father. They decided to have sex for revenge against Tony, but G.O.B. wanted to record him and Ann wearing a latex Tony mask to sabotage Tony's gay persona. Frustrated, she walked out without a word and found Tony Wonder ready to meet G.O.B. and conned him into the same room where G.O.B. was waiting for her, tricking the magicians into sleeping together. (4x11 — "A New Attitude")
Season Five
The Guilty Guys clear Ann as a suspect for Lucille 2's murder
Quotes
Ann:
It sounds like your father just gave us permission to start doing it. You must teach me, George Michael. You must teach me the ways of the secular flesh.
From "Meat the Veals"
Trivia
Her full name is announced as Annabelle Veal at the Miss Inner Beauty pageant. ("

Notapusy

")
Hurwitz originally intended for her to be played by a different actress in each appearance.
Ann's nicknames include: Who?, Her?, Egg, Plant, Plain, Ann Hog, Bland, Yam, Mouth, Blank, Hair, Hand, And, You.
Images
→ See 101 pictures of Ann Veal at Images of Ann Veal.
Appearances