Anthony & Joe Russo are directors of multiple episodes of Arrested Development.
Biography
Anthony Russo and his brother Joe Russo were born one year apart and are a writing, directing, and producing team on all projects they work on. They were both born in Cleveland, Ohio and attended Case Western Reserve University where they began their careers in directing. After Steven Soderbergh saw their student film he approached the brothers and offered to produce their next film, Welcome to Collinwood which stars William H. Macy, Sam Rockwell, and George Clooney.
From there, the brothers began taking more and more jobs in sitcoms, including the first episode of Arrested Development; Anthony directed four other episodes and Joe nine.
Joe Russo also played the character "Joe" in the Season Two episode "Hand to God" (which he directed); he says 'Why are there cats in the shot?' when Maeby is filming her movie and G.O.B. is trying to get the seals with cats.
Since Arrested Development, the brothers have directed the Owen Wilson film You, Me, and Dupree and have worked on a plethora of TV shows including LAX, What About Brian? and Mitchell Hurwitz's Running Wilde. Most notably are the sitcoms Community and Happy Endings which the brothers produce and direct episodes of.
They have also directed some of the most successful Marvel Cinematic Universe (MCU) movies including: Captain America: The Winter Soldier, Captain America: Civil War, Avengers: Infinity War and Avengers: Endgame; Endgame is one of the highest grossing films of all time.
Episodes Directed
Anthony solo
Joe solo
Awards
Images
Video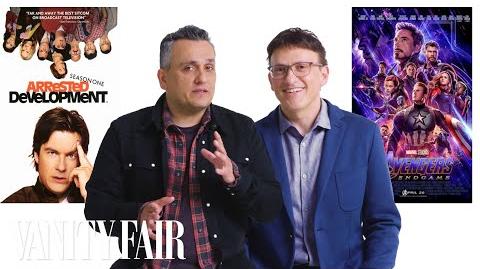 See also