The Balboa Bay Window magazine is the official magazine of the Balboa Towers apartment complex. On a few occasions it featured Lucille & Buster in matching outfits. It is 'The magazine of the American society of ladies who lunch - a lot'.
About
Buster wrote an article for the Window called 'Why I Want To Marry My Mother', aged 10. The same issue included 'Best kept secrets of a Lycra swimsuit', and an article actually about bay windows. ("Switch Hitter")
Years later, Buster and Lucille donned matching outfits for a 'Keepin' it Fresh!' article. Lucille mentioned the article at her photo shoot with Buster on the beach before he went off to Army. The magazine also had articles about 'How to Dress for Success', 'Yacht Club presses forward with plans to downsize to rowboats', 'Two Bay Windows!', 'Leprechaun Impersonators Visit Balboa Towers' and 'Once a desert wasteland, now an oasis. How the Bluth Company helped millions of Iraqi families. For a second!' and 'Balboa Towers gets a Facelift!' ("Out on a Limb")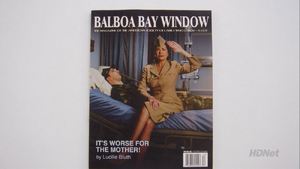 When he misses mother at home, Buster reads through the 'Keepin' it Fresh!' issue of the Window. ("Spring Breakout")
While comatose in the hospital, Lucille poses with Buster in army attire, with the headline 'It's Worse for the Mother!' ("Exit Strategy")
A framed issue of the Window featuring Sally Sitwell on the cover appears in Stan Sitwell's office. ("Development Arrested")
Lucille and Buster appear on a cover with the title "Proposition Ape — Lucille Bluth protests gay marriage by marrying a Gorilla". ("Indian Takers")
Buster and Lucille appear on a cover with the title "Eternal Flames Offend at Motherboy", where Lucille dressed at Jackie Kennedy and Buster as John-John Kennedy. ("Off the Hook")
Images
Community content is available under
CC-BY-SA
unless otherwise noted.