Cal Cullen is the owner of one of the largest parcels of land in Orange County. Michael reaches out to him for help with the struggling Bluth Company.
Character history
Season two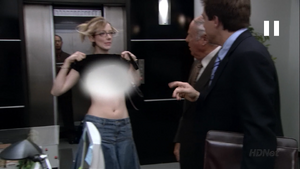 Michael calls Cal to help invest in the Bluth Company. He stops by a board meeting and states his objections to being affiliated with the Bluth family after their recent episode of Scandalmakers. A drunk Lucille performs a Chicken Dance to mock him.
After sending Lucille to rehab, Michael meets with Cal again and pretends to remember the TV series Sugarfoot to gain his respect and Cal agrees to make a deal. Kitty then storms in and flashes him and Michael. ("Spring Breakout")
Images
→ See 5 pictures of Cal Cullen at Images of Cal Cullen.