Carl:
Whoa, whoa, whoa. There's still plenty of meat on that bone. Now you take this home, throw it in a pot, add some broth, a potato.
Baby, you've got a stew going
.
Carl Weathers appears as a parody of himself, as a thrifty, mooching Hollywood movie star whom Tobias hires to teach him his craft.
Character history
Season one
Tobias traveled to San Francisco to take a stage fighting workshop class with Carl Weathers, but he never showed. ("Key Decisions") Tobias later met him in an airport shuttle and found out that Carl intentionally gets bumped from flights to get reward vouchers. Carl also agree to give Tobias acting lessons for $1,100. The two worked together but Carl's advice is predominantly about how to save money in any situation. They traveled together to Rud where Carl managed to get free drinks and leftovers. ("Public Relations")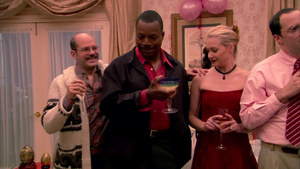 Carl attended the Bluth family's Valentine's Day party at Balboa Towers and continued to teach Tobias lessons about thrift. Tobias asked for his money back. Carl was introduced to Lucille Austero and the two hit it off and made stew together. Carl set Tobias up with an audition for Frightened Inmate #2, and broke the news that the role is in the nude. ("Marta Complex")
Season two
Carl produced an episode of Scandalmakers about the Bluth family and met with Tobias in a Burger King to talk about the rights to the story. Carl offered Tobias the role of George in the episode, which Tobias jumped for immediately. He also cast Dave Attell as Tobias in the episode. ("Motherboy XXX")
Season four
To make the Untitled Michael B. Project Michael called Carl to get the rights to the Bluth family that Carl used in his episode of Scandalmakers. However, Carl said he never got the rights (which, coincidentally got an episode about Scandalmakers made about him, also directed by him.) Carl volunteers to play himself in the film, and became part of the team. ("The B. Team")
Thrift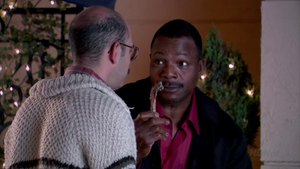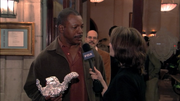 Carl Weathers is an extremely thrifty man and often shares his tricks with others:
Carl takes a shuttle to the airport rather than a taxi or his own car.
Carl scams the airline by exploiting a loophole that gives you $300 if you are bumped from a flight.
Carl buys all his automobiles at police auctions.
Carl tries to get a drink on Lindsay's tab.
As a brawl breaks out, he shares a bottle of wine with Lucille off some random table.
When interviewed after the fight at the restaurant, he is holding a doggy bag and indicates that he will be suing for $50,000 in medical damage.
He makes stew from old chicken bones and leftovers.
He eats all his meals off the craft services table and pockets his per diem.
He gets a product placement with Burger King.
Carl gets his fill of free drink refills at Burger King.
Carl takes from Grinch dolls for "the restaurant". (Which may be C.W. Swappigan's)
Images
Appearances