Cindi Lightballoon: I'm a mole.
George Bluth: You know, God... God doesn't care how big your teeth are. Yes, you could go to a dentist and you could, whoo... you could grind off about—I don't know—30%. Maybe more. Yeah, I wouldn't miss it.
From "Altar Egos"
Cindi Lightballoon was a government mole sent to attempt to get obtain secrets from George Bluth while he was in prison.
Character history
Season one
Cindi posed as a follower of George's Caged Wisdom video series in order to gain his trust. She told him personal secrets but he didn't open up and only wanted her for her body. He tweaked her nipples which were wired with a camera and microphone, alerting Agent Freeling and Agent Cummings in the nearby Blendin van. ("Staff Infection")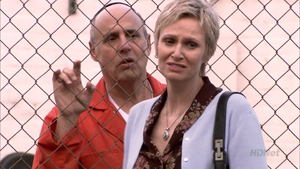 Her visits to George in prison made her actually fall in love with him and she confessed that she was a mole. She then told him that she knew for a fact he was going to get off. Lucille saw them together in the prison yard and threatened to divorce George until he revealed that he was only trying to pry information from Cindi. Eventually George figured out that Cindi did not understand the concept of a blooper reel and took George's gaff of saying "faith is a fact" in a Caged Wisdom blooper. ("Altar Egos")
Season five
She is last seen in the season finale in a poster for Guys and Dolls. She is starring as "Sarah Brown". ("The Fallout")
Trivia
Images
→ See 12 pictures of Cindi Lightballoon at Images of Cindi Lightballoon.
Appearances