"Colony Collapse" is the seventh episode of Arrested Development's fourth season.
G.O.B. finds a new group of friends after his relationship falls apart and his family abandons him.
Synopsis
After being punched by George Michael for dating Ann, G.O.B. ran away then spoke with Ann about the future of their relationship and his hopeful magic career. After his father's exoneration party and his mother was arrested G.O.B. spoke with Jackson about the animals he had on his person that drowned when Lucille stole the RMS Queen Mary. George Michael refused to give him his approval to see Ann but G.O.B. accepted his hypothetical "Yes" as a real "yes". He then realized the relationship meant nothing to him so he snuck into Ann's room to break up with her. She unzipped her pajamas and G.O.B. was reminded of similar times that made him aroused so he slept with her. While attempting to break up with her during post-coital eggs, Ann told him she wanted him to have space. Taken aback by this, he joked "Marry me!" which she took literally. She and the rest of the Veal family celebrated in a giant group hug.
G.O.B. and Ann announced their wedding to the Bluth family at Balboa Towers and received no attention from the family. G.O.B. then announced that he was going to perform a wedding illusion on And As It Is Such, So Also As Such Is It Unto You. He asked Michael to be his Best Man and illusion assistant but Michael refused. G.O.B. also confessed that his bee business was going poor due to his sick bees. Instead, Tobias acted as Centurion #2 during the Jesus' crucifixion illusion. The crowd was taken aback by the blasphemous performance and G.O.B. was unable to unlock his handcuffs so couldn't break his fall into a secret compartment. He was knocked unconscious and was carted into a storage locker. G.O.B. survived in the storage locker for two weeks on nothing but red licorice vines until found by the filming of Locker Hawkers: Something Smells Terrible Edition.
In the hospital Ann dumped G.O.B. and gave him a Biblical pamphlet. G.O.B. took the pamphlet's advice and tried to be a better man by reuniting with his son Steve Holt at the And Jeremy Piven club. G.O.B. talked with Steve for over an hour before he realized that the now balding man was his son. Steve then offered him a job at his Steve Holt! Pest Control business. Once Steve left, G.O.B. performed a cherry illusion which John Beard Jr. noticed and asked him to perform for teen pop icon Mark Cherry. He continued to impress the group with magic until some paparazzi arrived. G.O.B. squirted lighter fluid in the paparazzi's eyes so the crew could get away, earning him the nickname "Getaway".
G.O.B. partied with the group for several months but was usually just their limo driver. He partied with some girls and caught syphilis and tried to take Forget-Me-Nows to forget but got caught in a roofie circle and ended up in a Mexican hospital with stage 4 syphilis. Mark Cherry and the gang grew so tired of him they tried to get rid of him by writing the song "Getaway" but the message didn't get through.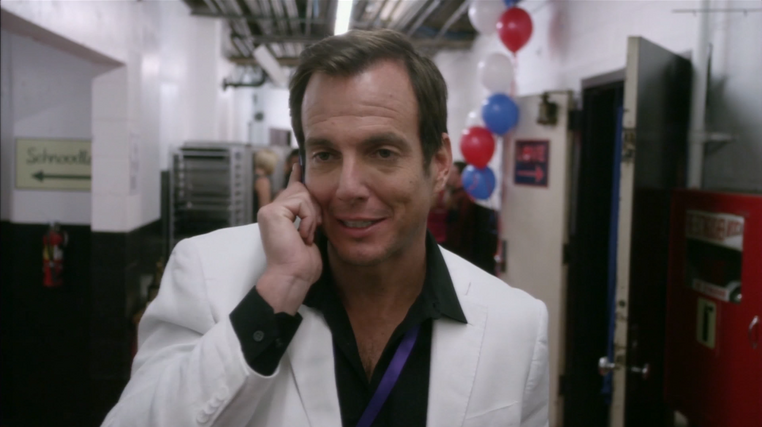 G.O.B. picked up his sick bees from Johnny Bark and put them in the trunk so Mark and the entourage could fit in the limo. After picking up some party girls from And Jeremy Piven, including DeBrie Bardeaux, DeBrie opened the compartment to the trunk and the bees swarmed the cabin of the limo. The entourage and girls were admitted to the hospital and then to rehab but G.O.B. wasn't made aware until he went to The Opie Awards where he tried and failed to sabotage a Tony Wonder magic act. He then went down to Mexico to help his father with the wall project at his sweat lodge and the bees swarmed the guests. G.O.B. noticed his cave, sold by Ann to Heartfire on Craigslist. He found a cross necklace wedged into the crack of the secret door and thought the "t" stood for Tony Wonder.
Appearances
Main Cast
Guest
Ben Schwartz as John Beard Jr.
Asif Ali as Trout
George Watsky as Chris Kazmierczak
Wyatt Russell as Oakwood
Mather Zickel as Studio executive
Patrick Robert Smith as Truck driver
Michelle Gillette as Bingo announcer
Debra Leigh as Betty the church official
Marc Evan Jackson as Storage auctioneer
Allison Jones as Lorna Hawker
Peter Giles as Stuart the bartender
Molly Erdman as Lupus sufferer
Trevor Einhorn as Josh Abramson
Recurring themes
References
Entourage - The episode opening parodies the pilot of HBO's Entourage which focuses on a celebrity and his group of friends. The club they attend is called And Jeremy Piven, a nod to the opening credits of Entourage, where they drive past buildings with cast members' names on the signs.
Andy Richter - Andy watches John Beard on Outwest in Lounge call talk show sidekicks America's second least favorite entertainers.
"The Sound of Silence" - G.O.B. hears Simon and Garfunkel's song "The Sound of Silence" (namely the lyrics "Hello darkness, my old friend") several times when contemplating how lonely he is.
Anne Murray - The award-winning Canadian singer's name appears on an "Anne Murray Live!" moving truck.
Storage Wars - The storage locker reality series is parodied in Locker Hawkers: Something Smells Terrible Edition.
Mark Cherry - The singer Mark Cherry is a nod to the TV writer Marc Cherry, first mentioned in "Righteous Brothers".
Disney Channel - Mark Cherry became famous from a cable channel show Pop-a-R.O.T.C. before becoming a famous party person, similar to some Disney Channel stars. He became famous for the song "Practice Kisses".
R.O.T.C. - Cherry's show Pop-a-R.O.T.C. is a musical show about kids in the Reserve Officers' Training Corps.
Memento - G.O.B. takes Forget-Me-Nows in front of the medicine chest mirror on the bathroom, on which a woman has written a message to him that he never erases. Leonard Shelby, the lead character from Memento who suffers from amnesia, tries to remember things while looking at himself in the medicine chest mirror.
Driving Miss Daisy - G.O.B. mimics the film while driving the limo.
The No. 1 Ladies' Detective Agency - In the bathroom after the night out with the bees, G.O.B. is wearing an inside-out T-shirt that reads "the no. 2 ladies' detective agency".
Callbacks/Running Jokes
Ann: How'd you like your egg?
G.O.B.:
I said you were fine.
Ann's nicknames - Several Bluth family members forget Ann or her name:

G.O.B. calls her "my darling plant", and when she corrects him with "Ann" he thinks she wants him to say "And".
G.O.B. twice calls her "egg", as Michael did in "The One Where Michael Leaves".
Michael calls Ann "mouth"
G.O.B. calls her "blank"

Dead animals - G.O.B. pulls live mice from behind Ann's ears and later has two dead doves, a dead rabbit, and some dead mice which drowned when the RMS Queen Mary capsized.
John Beard's jobs - John Beard hosts Outwest in Lounge and quits on screen.
In-flight magazines - The ticker text during John Beard's broadcast in the Outwest lounge reads "Outwest Magazines available only to ticketed passengers (while in flight!) except in bulkhead seats."
FOX 6 - The "Pursed Lips Sinks Ship" news story at the harbormaster's lodge.
How dey do dat - Tobias asks "How'd he do dat?" about G.O.B. mice illusion. Tony Wonder calls dumb audience members "How dey do dats" in "Sword of Destiny".
G.O.B.'s religion - Although pretending to be religious to please Ann, he is not:

G.O.B. is frightened by a picture of Jesus in Ann's room and says "For a second I thought that was a real guy."
During his Jesus' crucifixion illusion he calls Jesus' resurrection a trick, then an illusion.
He calls himself "the amazing Jesus"
He fails to recognize the cross necklace in the sweat lodge, and thinks it is a "t" for Tony Wonder. Maeby called it a "t necklace" in "Motherboy XXX".

Prayer Hands - All the guests on As It Is Such, So Also As Such Is It Unto You use this gesture when G.O.B. prays.
"Should, should, should, sh-sh-sh-should...", G.O.B. suits, and "Come on!" - G.O.B. stutters on the word "should", stutters about Ann's $32 nightgown that he's wearing, his $6,000 tuxedo (shirt) that Ann's wearing, and a $3,400 something, ending with him saying "Come on!" multiple times. A nod to "Afternoon Delight".
And As It Is Such, So Also As Such Is It Unto You - G.O.B. makes an announcement on the religious talk show, foreign to him, similar to his announcement on Acceso Mexico in "Key Decisions".
"Her?" - Terry Veal says "Hair?". A big sign reading "H.E.R.?" appears in the sanctuary of the Church of Holy Eternal Rapture.
Bees - G.O.B. thinks Michael stole his bee business when he learns of The Michael B. Company. He then explains the woes of his bee company to Michael. He first stole the idea from Lindsay's beads business in "Let 'Em Eat Cake". Johnny Barks' bee company is called Johnny Bark's Bee Company and he calls himself "King of the Bees".
Parmesan cheese and mustard - G.O.B. eats Parmesan cheese and mustard at the model home. A bottle of Parmesan cheese is later seen in his bed. Tobias and G.O.B. later dine on Parmesan cheese and mustard in "Smashed" and "A New Attitude".
Handprints - A yellow handprint (parmesan cheese and mustard) is seen on the boulder when G.O.B. crawls back into it in the model home, possibly reminiscent of Tobias' blue handprints all over the Bluth home.
"I don't want these..." - When Ann offers G.O.B. her family, he says "I don't want these...". George said an identical line when Oscar offered to share his friends in "Borderline Personalities".
Roman Centurion #2 - Tobias continues to land characters without names and with numbers, such as Frightened Inmate Number Two and Confidence Man #2.
The Miracle Network - Tobias appeared in several programs for The Miracle Network, namely Father Marsala's John the Baptist, Father Marsala's Embryo Dan: It Would Have Been a Wonderful Life, and Father Marsala's A Jew Came to Dinner.
Trick vs. Illusion - During his Jesus' crucifixion illusion G.O.B. clarifies the distinction between "trick" and "illusion." He attempts to do the same at And Jeremy Piven but John Beard Jr. pays him not to. This is a reference back to "Pilot".
Love Each Other - Appears on the banner on G.O.B.'s Amazing Jesus illusion cross and on the back of the "Shhh!" sign hanging on G.O.B.'s dummy.
"Two Weeks!" - G.O.B.'s vow to beat Jesus' 3 days in the tomb by two weeks echoes the time he vowed to beat Michael's 2 month estimate by two weeks in "The One Where They Build a House".
Missing limbs - The mannequin in the tomb was missing a hand.
"The Final Countdown" - G.O.B.'s theme music plays during his Jesus' crucifixion illusion.
Tipping Black people - Two Black movers 'tip' G.O.B., while trying to load the boulder onto the truck.
Security cameras - The flatbed truck runs a red light and is caught on camera.
Notes - Tobias finds a note on the mannequin's body.
Medical emergencies - G.O.B. finds himself in a hospital twice in this episode.
Craigslist - Ann mentions she sold G.O.B.'s tomb on Craigslist. In "Borderline Personalities" Heartfire buys the tomb on Craigslist.
"Is that going to happen to my hair?" - Steve Holt was worried about balding in "The Immaculate Election" and is balding now.
"Steve Holt!" - Steve shouts "Dave Holt!" and his pest control business is called Steve Holt! Pest Control.
Nobody recognizes Steve Holt - Gob doesn't recognize his own son
PSAs - Rebel appears in two PSAs, first seen in "Double Crossers":

"Never yell fire in a crowded place."
"Binge drinking. Not cool."

David Spade - Rebel calls her purse a David Spade. Lindsay bought a knockoff Kate Spade jacket in India called a David Spade.
Lighter fluid - G.O.B. squirts lighter fluid in the paparazzi's eyes.
Forget-Me-Now (pill) - G.O.B. enters a roofie circle by taking so many Forget-Me-Nows, first seen in "Forget-Me-Now". He gets a prescription filled, seen previously in "Flight of the Phoenix" and "Double Crossers".
Police boats - G.O.B. mentions the police boats from "Pilot" or "Development Arrested" while drunk with the posse.
"I'm here, I'm queer..." - Tony Wonder's magazine article has the title "I'm here, I'm queer, now I'm over here". When performing at the Schnoodle keynote, Tony says "I'm here, I'm queer, and now I'm in a speaker". In "Pilot" the gay protestors chanted "We're here, we're queer, we want to get married on the ocean."
Shrimp - G.O.B. mentions that Mark Cherry loves shrimp.
Hidden/Background Jokes
Ringtone - G.O.B.'s ringtone is "Getaway".
Empty chairs - Tobias' picture is not on a seat for G.O.B.'s wedding.
Movie title - At the beginning of the episode, the entourage's limo is seen driving past a sign advertising Maeby's movie, Gangie 4: Face Lift.
Dove - Tobias discovers a dove wrapped up with a note instead of G.O.B when removing the body from the tomb illusion. In Christianity after Jesus ascened he sent the Holy Spirit, most commonly depicted as a dove. This also calls back to G.O.B's dead bird incident "Top Banana."
Convenience Store - The Take-Out Deli where G.O.B. buys his Forget-Me-Now has a sign on the right "Vendemos Olvidame-Ahorita" (We Sell Forget-Me-Now) and sign on the left "Libros Adultos" (Adult Books), referencing George's purchase there.
Joe Withabee - On G.O.B.'s mirror, a girl wrote his name as "Joe Withabee."
Foreshadowing/Future References
Limo - G.O.B.'s limo receives an explanation in this episode.
Opie Awards - G.O.B. attends the Opie awards

Wedges the podium shut - G.O.B. wedges the podium shut when he thinks Tony Wonder is hiding inside.
Explosion - G.O.B. witnesses the explosion at the hotel.
Schnoodle - G.O.B. sees a sign for a Schnoodle keynote speech featuring Mort Meyers and Tony Wonder.
Maeby runs by with an Opie award.

Ann is pregnant - G.O.B. mentions that after their night of making love Ann has let her stomach grow fat.
In the episode "Indian Takers" Lindsay receives and acts on advice from someone she believes to be a religious leader. Continuing this trend, G.O.B. receives advice from his Christian girlfriend Ann Veal in "Colony Collapse". She thinks he should become a Christian, and she specifically says, "let the Holy Ghost inside you." In the next scene, he reads a Christian pamphlet she gave him, which discusses the Father-Son relationship between God and Jesus, while talking on the phone with his own son, Steve Holt. He misreads "God" as "G.O.D.," saying he's ready to "let the son of G.O.D. enfold me." He invites Steve to meet him at the club And Jeremy Piven where he compares himself to the Bible's Job. Steve then offers G.O.B. a job with him in "pest control." While some fans theorize that the "pest control" element will eventually, in a later season or movie, become relevant to the bees and other insects that have been mentioned during season four, some fans have another theory - that G.O.B. will eventually embrace the Holy Trinity, uniting Father, Son, and Holy Ghost, and that the Ghost in question will come in the form of a Ghostbusters parody. While the bee/insect theory and the Ghostbusters theory are not mutually exclusive, some advocates of the Ghostbusters theory consider the references to bees and other insects to be red herrings.
In Comparison to the Remix
In the chronological re-cut of season 4, footage from Colony Collapse is used in 11 different episodes. The original cut of Season 4 is slightly longer than the re-cut version. Because of this, various lines of dialogue and sometimes even scenes are cut. These changes, as well as which scenes appear in which remixed episode, are listed below:
Opening scene with the entourage (4x9 Modern Marvels & 4x11 Fun Night)

The first sentence from the narrator and the getaway caption are in 4x9 Modern Marvels, the rest is in 4x11 Fun Night.

G.O.B. and Ann on the yacht, G.O.B. runs after Ann, cut dialogue in italics (4x2 Three Half Men, 4x1 Re Cap'n Bluth)

George Michael: Her?
George Michael punching G.O.B. appears in 4x1 Re Cap'n Bluth & 4x2 Three Half Men, everything else is only in 4x2 Three Half Men.
This scene in an airport lounge is missing:

Narrator: A poll would confirm she was far from alone.
John Beard: (on TV) And it's not even close. For the fifth year in a row, your least favorite entertainers are... magicians. A close second, talk show sidekicks.
Andy Richter: Hmm! (BLEEP) you, too, America.
John Beard: You can add your last newsman to that list, 'cause I quit.
Ann: Well, you […]

Coast guard's office (4x1 Re Cap'n Bluth, flashbacks in 4x2 Three Half Men)

John Beard: (on TV) But then the Queen changed course, heading back to shore before crashing into the jetty and leaving most of its occupants all wet.
Narrator: …nothing standing in the way of a loving, committed relationship with Ann.

Ann & G.O.B. at her house (4x2 Three Half Men)

Ann's "pyjamas" are now called a "nightsack" by the narrator in the remix.

Family meeting (4x1 Re Cap'n Bluth, flashbacks in 4x4 Just Deserters)

Michael: And of course Lindsay returns from her spiritual journey […]

And As It Is Such, So Also As Such Is It Unto You (4x2 Three Half Men)

Father Marsala: My goodness. Oh, um, we… hadn't heard of it. Did you…
G.O.B.: Let me pray. Dearest…beloved…gods…

Michael, G.O.B., and the boulder (4x2 Three Half Men)
Before the wedding (4x2 Three Half Men, 4x4 Just Deserters)

The section from Ann's line "I don't know what your surprise trick is […]" to G.O.B.'s "I don't want these" is in 4x2 Three Half Men, the rest is in 4x4 Just Deserters.

The wedding (4x4 Just Deserters, flashbacks in 4x9 Modern Marvels, 4x22 Cinco de Cuatro III)

Pastor Veal: And so, it truly is a blessed day. I believe that we are all blessed […]

After the wedding (4x4 Just Deserters)

Narrator: And that's why this particular chair was empty at the trial of Lucille Bluth.
Pastor Veal: Well, I can't thank you all enough for returning…

Locker Hawkers (4x4 Just Deserters)

Storage Dave: Moment of truth, people.

G.O.B. and Ann in hospital (4x5 A Trial Run, 4x6 The Parent Traps, flashbacks in 4x9 Modern Marvels)

From "happy to see a familiar shape" to "So it was all worth it" is in 4x5 A Trial Run, the rest is in 4x6 The Parent Traps.

G.O.B. phones Steve Holt (split between 4x6 The Parent Traps and 4x9 Modern Marvels)
G.O.B. and Steve Holt at the bar (4x9 Modern Marvels)

G.O.B.: You know, I did the illusion myself and now I don't really have all that much money, and I don't even really have a job.
G.O.B. no longer repeats "Manville" for as second time.
This exchange is cut:

G.O.B.: No. This is the greatest day of my life.
Narrator: And perhaps it was because it was such a great day...
G.O.B.: 6:45.
Steve Holt: 6:45.
G.O.B.: 6:45.
Steve Holt: Steve Holt!
Narrator: ...that G.O.B. decided to stay at the bar and show off a little.

G.O.B. and the entourage at the bar (4x9 Modern Marvels)

Music is no longer Bang Bang Bang Bang
This scene is cut shorter:

(Rebel kisses G.O.B.)
Mark Cherry: Nice.
Paparazzo: Mark, over here!
J.B.J.: Oh, man, paparazzo.
Rebel: Oh, shoot, great. The last thing I need is to be seen partying with some tweens. I'm trying to clean up my act.

Outside the club (4x9 Modern Marvels, 4x10 Recurring Dreams)

"Three away from the center" is in 4x10 Recurring Dreams, rest is in 4x9 Modern Marvels.
G.O.B.: Hey! I'm with, with the guys.

Roofie circle (4x10 Recurring Dreams)

Narrator: And what begins in shame, almost always ends in a Mexican hospital with stage-four syphilis.
G.O.B.: But I've not seen you! You remember me? […] Remember me?

G.O.B. takes a photo in Mark Cherry's room (4x10 Recurring Dreams)

This scene is cut down:

G.O.B.: Oh, yeah, fine.
Twink: Thank you.
Mark Cherry: (waking up) What the hell?
G.O.B.: Run, run, run!

Recording Getaway (4x10 Recurring Dreams)
At the bee colony (4x10 Recurring Dreams)
Limo with entourage and DeBrie (4x10 Recurring Dreams, flashbacks in 4x11 Fun Night)

The narrator's line "In an effort to remain popular with the gang," becomes "In an effort to prove he provided a valuable service" in the remix.
DeBrie: Me, me, me… I do…
G.O.B.: We're taking our clothes off! We're taking…

After the bee attack (4x11 Fun Night)

G.O.B.: And I see this boat and I'm like […]
G.O.B.: Fun night. A fun night. Fun night.

At the Opies (4x11 Fun Night)

G.O.B.: T.W. Tony Wonder.

G.O.B. gets a call while driving (4x12 Moving Pictures)
G.O.B. finds the cross in the sweat lodge (4x12 Moving Pictures)
Quotes
G.O.B.:
Two drowned white doves from "Flowers to Doves," a rabbit from "Doves to Rabbit," also drowned. These were mice...
Tobias: From "Rabbit to Mice?"
G.O.B.: No. That can't be done. No, these were a part of something I call "mice-cellaneous." "Mouse in Purse." "Mouse in Drink." Here's a mouse, now it's gone.
Tobias: How'd he do dat?
Michael: Hey mouth, I didn't see you sitting there.
Ann: We rode up in the elevator together.
Michael: I'm drawing a blank.
G.O.B.: Yeah, me and blank are getting to the old Christian magic act again.
Father Marsala: [to Ann] I thought you were hair.
Terry Veal: Hair?
Michael: I started my own company - The Michael B. Company.
G.O.B.: I have a bee company. You stole my idea?
Michael: No. I did not steal your- we sell hou- it would take hours. How's that going by the way?
G.O.B.: Uh, not so good. I've been keeping the bees in my apartment. I was using my magic smoke on them and my bees were dropping like flies and I need them to fly like bees so I've got them out at a bee hospital which is not cheap, which is another reason I need to be a famous magician..."
G.O.B.: We have money to start our life together. Now we have our nest egg... Ann. Now we have our nest Ann.
G.O.B.: Mark Cherry the babyface singer or Marc Cherry the babyface showrunner?
Narrator: And soon G.O.B. found himself experiencing what on the street is referred to as a "roofie circle" whereby a roofie is taken the day after a degrading event too late to erase the memory of the degrading event itself but not too late to erase the prior day's attempt to erase the event. Thus, with no memory of taking the roofie but the memory of the event very much alive, the victim of the roofie circle finds himself constantly trying to re-erase the memory but only succeeds in erasing the memory of the attempt to erase the memory. Days turn into weeks, weeks turn into months, and relationships grow testy. And what begins in shame almost always ends in a Mexican hospital with stage 4 syphilis.
Mark Cherry: [singing "Getaway"] Why don't you go away getaway, stay away getaway, get away getaway, you're hopelessly hopeless!
→ See more quotes from "Colony Collapse" at Transcript of Colony Collapse.
Notes
In the opening credits, G.O.B.'s instrument is an electric guitar.
This is the first episode of Season Four where every main character's face appears. (In "Double Crossers", only George Michael's shoulder and legs are seen. However, Buster, Lindsay, and Maeby only have repeated lines from other episodes and Lucille and George have no lines.
Barry appears in this episode but has no lines.
Goofs
In the "Are those police boats" shot from the third season there is no "Showstealer Pro Trial Version" watermark on the screen.
In the coast guard office scene George Sr. walks in after G.O.B. and Tobias' conversation, and then walks in again in the next shot.
Video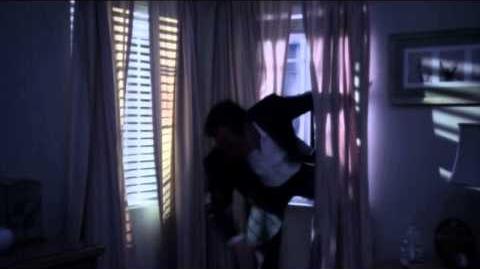 Images
→ See 172 pictures from Colony Collapse at Images from Colony Collapse.