Conan O'Brien is a late night talk show host who has worked with Andy Richter on Late Night with Conan O'Brien, The Tonight Show with Conan O'Brien, and currently Conan. 
Conan appears as himself in the Season Four episode "The B. Team."
Character history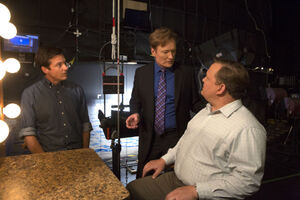 Season four
When Michael Bluth visits Andy Richter on the set of Conan and asks him to portray George Bluth in the Untitled Michael B. Project, Conan walks up to the two men and open insults Andy in front of Michael and his hair dresser. Later, Andy is unable to return to the set of Conan so Rocky Richter-Wang fills in and makes an offensive joke about both Conan O'Brien and Ron Howard. ("The B. Team")
External links
Images
→ See 5 pictures of Conan O'Brien at Images of Conan O'Brien.
Character appearances
Season One
—
Season Two
—
Season Three
—
Season Four
"The B. Team"
Season Four Remix
—
Season Five
—