David is Herbert Love's campaign manager for his election against Lucille Austero.
Character History
Season Four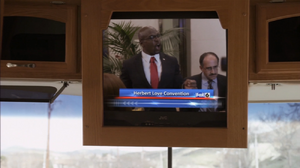 David's main role is to coordinate Herbert Love's fundraising, advertising, polling and helping him win the election. (4x6 — "Double Crossers")
David overheard Maeby call her mother Lindsay "a whore", he then asked Maeby to pimp Lindsay out. He paid Maeby a substantial amount of money, to keep things under wrap. (4x12 — "Señoritis")
When Herbert Love is discovered in a coma, David tells Lindsay he may not come out of the coma for ten years. David then asks Lindsay is she "would consider running in his place" in the election. Before David can complete the question, Lindsay says yes. (4x8 — "Red Hairing")
Images
→ See 14 pictures of David at Images of David.
Appearances