DeBrie Bardeaux is a recovering methadone addict and former "actress" that Tobias takes a fancy to.
Character history
Season four
In an attempt to make Lindsay's testimony in her mother's trial more believable Tobias took his wife to the Garden Grove Methadone Clinic thinking it was a method acting clinic. At the clinic, Tobias met DeBrie who he thought was reciting a monologue and gave her his critique. They took some methadone before leaving with Lindsay and Marky Bark to go on a double date at C.W. Swappigan's. (4x3 — "Indian Takers") At the restaurant DeBrie wiped butter on her face and Tobias took her to the bathroom to clean up. She revealed that she has appeared in The Fantastic 4 and some Straightbait movies and Tobias kissed her when she told him that he reminded her of Billy Crystal [Meth]. They decided to run away together but DeBrie's heart stopped and he rushed her to the hospital. (4x5 — "A New Start")
At the hospital, they agreed to follow their dreams of becoming actors together. (4x5 — "A New Start") Over the next five years they followed their dreams which never came to fruition. They starred in one episode of Scandalmakers directed by Carl Weathers, during which her heart stopped and Tobias yet again rushed her to the hospital. (4x4 — "The B. Team") They also posed on Hollywood Blvd and outside of Disneyland but were arrested for Copyright infringement multiple times. (4x5 — "A New Start")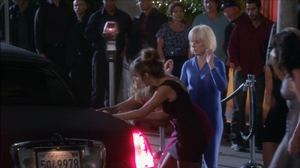 In 2012 Tobias found DeBrie about to turn a trick in exchange for a hamburger. Dejected, Tobias went to Balboa Towers where he found Cindy the Ostrich attacking Lucille 2. Tobias rushed Lucille 2 to hospital where she offered him a job at Austerity. He said no and later told DeBrie his decision, causing her to run off. (4x5 — "A New Start") She entered a limo full of girls exiting and Jeremy Piven and was attacked by a swarm of deranged bees from G.O.B.'s limo's trunk. (4x7 — "Colony Collapse")
DeBrie was admitted to the Austerity rehab clinic. Tobias, on work release from prison wanted to be with her so he launched Fantastic 4: An Action Musical and cast DeBrie as the lead. (4x9 — "Smashed") Lucille made fun of DeBrie during rehearsals of the show. (4x10 — "Queen B.")
On the night of Cinco de Cuatro, Lucille Bluth mocked DeBrie and told her she should take some diet pills. Tobias then told DeBrie she must be great because their dreams depend on it. A stressed DeBrie then found Dr. Norman's discarded pills floating in the bay, consumed some and passed out in a pile of debris. Tobias found her and tried to wake her up but was discovered by Lucille 2. She threatened to send him back to prison for letting an Austerity patient relapse. Tobias left DeBrie in a chair while he took off to participate in the musical. (4x9 — "Smashed")
Images
→ See 61 pictures of DeBrie Bardeaux at Images of DeBrie Bardeaux.
Appearances