Emmet Richter is an identical quintuplet of Andy Richter, Donnie Richter, Chareth Richter, and Rocky Richter-Wang.
Character history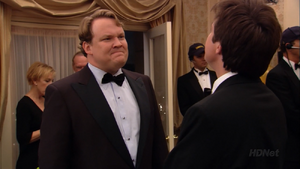 Season three
Emmet does not like to have his face revealed on television, but composite images show that he looks similar to his brothers. Andy Richter shows up at the Bluth family's "Save Our Bluths" fundraiser dinner and chickens out of singing and dancing, claiming he is Emmett. ("S.O.B.s")
Season four
Emmett, a compulsive hoarder, is admitted to the Austerity rehab clinic and is led in a group therapy session led by Tobias. ("Smashed") He takes part in Fantastic 4: An Action Musical at the Cinco de Cuatro celebration. ("Queen B.")
Images
→ See 12 pictures of Emmett Richter at Images of Emmett Richter.
Appearances