Never seen Arrested Development? Start here! This page will fill you in with all the information you need to know before diving in and enjoy the show. Warning: this website contains up-to-date information about all aired episodes.
What is Arrested Development?
Main article: Arrested Development
Arrested Development is a sitcom that aired for 53 episodes over 3 seasons on FOX from 2003 to 2006 with a 15-episode revival season on Netflix in 2013 and a fifth season of 16 episodes which aired in 2018 and in 2019. Focusing on the Bluth family's recent downfall due to their patriarch's thievery, the show follows all nine members of the Bluth family as they grow accustomed to their new life on a budget.
The series is shot in a faux-documentary style but is not a mockumentary. There is no laugh track, no studio audience, and no pandering to audiences who don't invest their full attention. Each episode crams enough jokes, flashbacks, cut-aways, call-backs, call-forwards, and subtle background jokes in 22 minutes that each viewing reveals more jokes.
In 2011 series creator Mitch Hurwitz announced that a fourth season was in the works. Shortly after, Netflix announced that it had acquired the broadcast rights. All 15 new episodes of the new season premiered together on Netflix in all regions on May 26, 2013. Season Five was announced in May 2017 and will be released on May 29, 2018.
Who are the characters?
Main article: Bluth family
The main characters of Arrested Development are the members of the Bluth family. Real estate mogul George Bluth is arrested for stealing money from the Bluth Company. The family's finances are put on hold, and everyone must adjust their lifestyles. George's wife Lucille drinks her way through the budget, and her nervous son Buster must spend more time at home. George's son Michael steps up to helm the company and family, so he can guarantee his son George Michael a happy and safe life. Michael's older brother G.O.B. is blacklisted as a magician and his sister Lindsay moves back from Boston with her hapless husband Tobias and jaded daughter Maeby.
What episodes should I watch?
Main article: Category:Arrested Development Episodes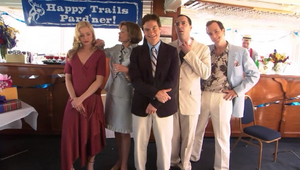 You should watch every single episode. Not kidding. The series is only composed of 84 episodes and only by viewing all of them in sequence will you properly enjoy them. Each episode builds on the previous and you are rewarded for watching them in order. After you've seen the entire series, you can always catch a random episode and enjoy it.
Start with "Pilot". It's the first episode and sets up the entire series. It also sets up some classic jokes and gags such as The Alliance of Magicians and Lucille's winking.
How can I watch Arrested Development?
Easy! Arrested Development is available for streaming on Hulu, Netflix, and Amazon Prime. Otherwise, you can purchase the season DVDs for reasonable prices on Amazon or download episodes on iTunes. 
Community content is available under
CC-BY-SA
unless otherwise noted.