G.O.B.'s wife:
Unbelievable. The seal deal fell through. Three of the seals died on their way to Chad. How am I ever going to find a maritime lawyer?

From "Altar Egos"
G.O.B.'s wife is a certified seal salesperson who married G.O.B. as part of an evening of escalating dares. Her name is unknown to any member of the Bluth family.
She is portrayed by Amy Poehler, who in real life was married to Will Arnett. She appears in five episodes of Arrested Development over the first two seasons.
Character history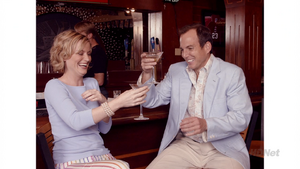 Season one
G.O.B. met his wife while looking for a one night stand. A series of escalating dares led them to pull pranks with shopping carts, rob a convenience store, and eventually get married. Before they could consummate the marriage G.O.B. accidentally reminded her about a seal deal she was working on—selling five sick seals to a zoo in Chad. Three of the seals died and she needed a maritime lawyer to get the remaining two off her hands. ("Altar Egos") G.O.B. attempted to ask her for a divorce but when he worked up the courage she received a phone call informing her that her parents had divorced. Instead, G.O.B. swore to stay with her. ("Justice Is Blind")
She convinces G.O.B. to wear bright, colorful sweaters but fell in love with Tobias at a Bluth family cocktail hosted by Lucille. She recognized him from Dr. Fünke's 100% Natural Good-Time Family Band Solution and is possibly the band's only fan because she was comforted by the fact that they sang about every side effect she was going through while on Teamocil. She joined Tobias on stage at the Wellness Convention playing autoharp. She then told G.O.B. that she was in love with his brother-in-law.("Best Man for the Gob")
Fed up with G.O.B. and in love with the unobtainable Tobias, she enlists in the army. ("Whistler's Mother")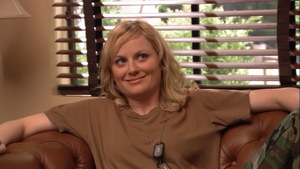 Season two
After Buster's hand was bitten off by a seal, it is revealed that it was G.O.B.'s wife who owned the seal which was then used by G.O.B. in a magic act, then freed. A photo montage of G.O.B.'s wife in the Abu Ghraib prison were shown. ("Out on a Limb")
After returning from army, she files for divorce from G.O.B. and sues him for the seal that he set free that formerly appeared in his magic shows. A pompous G.O.B. prepares to swallow his guilt and admit they never consummated the wedding but the two finally have sex in the courthouse just minutes before signing the divorce papers. ("Motherboy XXX")
Trivia
G.O.B.'s wife recently acquired a degree in Marine Biology, according to G.O.B..
Poehler's real name is used in a scene where G.O.B. talks about the fact that he doesn't know her name: "Bad example: if her name is Amy, I'll call her Blamey." He also guesses her name as "Crindy" and "Saul Zentsman" (the latter turning out to be her lawyer), and when he meets her again misreads the "U.S. Army" label on her uniform as being her name, calling her "Usarmy".
She frequently takes photos while smoking and pointing at crotches, a clear parody of Lynndie England, a central figure in the real-world Abu Ghraib prison scandal.
Images
→ See 30 pictures of G.O.B.'s wife at Images of G.O.B.'s wife.
Appearances