Imagine Entertainment is a film and television production company that produced Arrested Development. It was started by Ron Howard and Brian Grazer in 1986.
Aside from Arrested Development Imagine has produced dozens of films including The 'Burbs, My Girl, A Beautiful Mind, Frost/Nixon and Robin Hood and television shows including Felicity, 24, Friday Night Lights, and Parenthood.
Ron, Brian, and the Imagine Entertainment appear as themselves in Season Four of Arrested Development.
In Arrested Development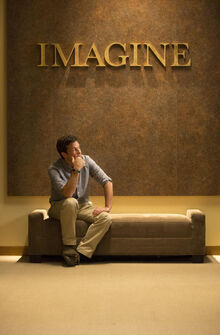 The narration explaining Lucille's dislike of Cinco de Mayo mirrors that in Dr. Seuss's How the Grinch Stole Christmas as does the discussion of why Michael opened the fourth ballot. The film version of the Seuss book was produced by Imagine Entertainment. ("Flight of the Phoenix")
After reading an article about Michael Bluth in Altitude magazine, Ron Howard asked Michael to be a producer on the Untitled Michael B. Project which would tell the story of the 2007 California real estate crash and its impact on Michael's relationship with George Michael. It would also show his wife's death, even though Tracey Bluth died years previously.  Michael had to collect signatures from his entire family in order to get the film made. This was particularly tricky since he was recently estranged from his son and distant from him siblings and parents. ("The B. Team")
The Imagine offices are engaged in a feud with Bruckheimer Entertainment across the street. Atop their building is a sign that describes their water-droplet-into-pond logo. The top floor holds Ron Howard and Brian Grazer's offices, which are signified via ornate wooden sculptures of their typical hairstyle or ballcap.
When Tobias is served for impersoniating 'The Thing' from The Fantastic 4, one of the bums sleeping on top of him claims to be a CIA agent, "scoping out Imagine Entertainment" ("A New Start")
Michael only successfully obtains Buster's signature and Ron and Brian decide to make a movie of Buster's suspected murder of Lucille Austero. ("Blockheads")
External links
Community content is available under
CC-BY-SA
unless otherwise noted.