"Indian Takers" is the third episode of Arrested Development's fourth season.
Lindsay tries to reclaim her sense of self while traveling and getting back to her political activist roots.
Synopsis
After finding out she was adopted and that her mother was being arrested for defrauding Bluth Company investors, Lindsay and Tobias met at the harbormaster's lodge to talk about their future. Lindsay decided to call it quits with Tobias and to take some time off to discover what's important to her in her life. After reading the first two thirds of Eat, Pray, Love she decided to visit India for a spiritual awakening.
Lindsay took a flight to India where, after a brief shopping spree (because she grabbed the wrong luggage at the airport) she met with a Shaman. The Shaman told her that was most important to her was at her home. The concierge informed her that her AmEx card was maxed out and her Shaman visit was cancelled. Lindsay looked back and saw her Shaman's tent has disappeared and was replaced with an ostrich.
Back at Balboa Towers Lindsay announced to her family that she was going to make things work with Tobias. Also, Lucille was going to give her some of the family stimulus money if she testified at her hearing. Tobias and Lindsay visited James Carr to buy a modest new home but he fixed them up in a lavish mansion with a predatory loan.
Upon realizing Lindsay's testimony needed to be believable in order to receive any stimulus money, Tobias and Lindsay decided to visit a Method Acting clinic, actually a methadone clinic. Lindsay again lost hope in Tobias and ran into Marky Bark. The Fünkes, Marky Bark, and his girlfriend DeBrie went to C.W. Swappigan's for dinner and while Tobias and DeBrie were off in the restroom Lindsay thought Marky's ostrich farm was a divine sign so she and Marky absconded to start a new life together. Although the lovemaking was short and the dance sessions long, Lindsay became happy. Until she woke up under a giant pecking ostrich.
Intro
Each character has a specific instrument that plays along with the title music: Michael has a trumpet, George has a guitar, Lindsay has a sitar and guitar.
Appearances
Main Cast
Recurring
Guest
Recurring themes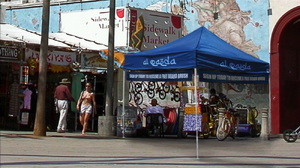 References
David Spade - Lindsay buys a knockoff Kate Spade jacket called a "David Spade". The salesman says that anything smaller than a size small is a "David Spade". Rebel later brags that her handbag is a David Spade in "Colony Collapse".
Peanuts - Tobias mentions that he fell in love with acting while watching You're a Good Man, Charlie Brown.
Eat, Pray, Love - Lindsay reads the first two sections of the book before traveling to India for a spiritual journey.
NINJA loan - James Carr gives the Fünkes a NINJA loan (no income, no job or assets) and Tobias replies "ninja please!"
Al-Qaeda - Marky Bark signs up for Al-Qaeda just because he wants a free beard brush.
Callbacks/Running Jokes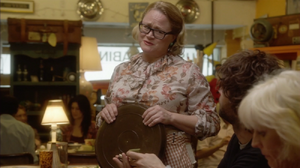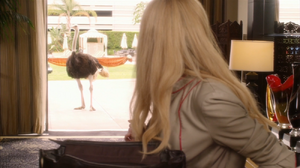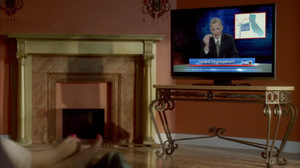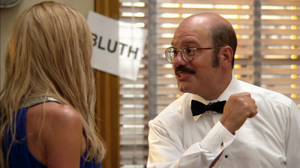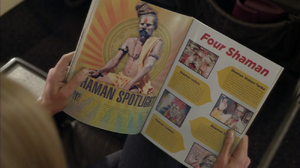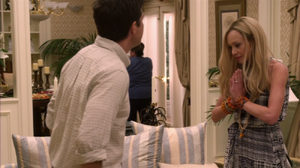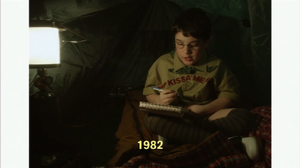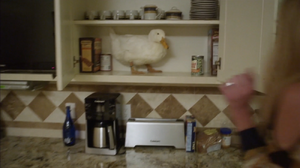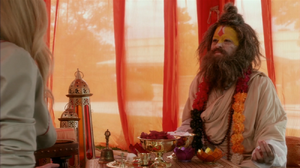 Loretta - Loretta is the former waitress of Klimpy's and Skip Church's Bistro, now working at C.W. Swappigan's.
James Carr - In "The One Where Michael Leaves" James uses Cookies scented spray to deceive homebuyers. He keeps up to his predatory tricks in this episode.
Gangee - A check for Gange 4: Facelift arrives at Balboa Towers.
Ostrich -

Lindsay travels to Shuturmurg, India. "Shuturmurg" is Hindi for "ostrich".
Lindsay's shaman tells her to pull her head "out of the sand"
Lindsay sees an ostrich at her hotel after seeing her shaman.

FOX 6 -
Balboa Bay Window - Lucille and Buster appeared in the BBW as a protest to gay marriage, with the headline "Proposition Ape: Lucille Bluth Protests Gay Marriage by Marrying a Gorilla"
Is Tobias gay? -

Tobias calls Mike the Hot Cop a "hot seaman" (as he nearly did in "Development Arrested")
Tobias sings "Oh, is that a gal I see, no it's just a fallacy!" (or "phallus, see")
Lucille says to Lindsay, regarding Tobias: "At least I was able to turn my queen around."

Prayer hands -

Lindsay makes prayer hands at the hotel attendant
Lindsay makes prayer hands at Michael in Balboa Towers, and he replies "Shoot me if you ever catch me doing that."

Camp Kissame Mommy - A shirt from Buster's in-home summer camp is later seen in "Off the Hook".
Blue Man Group - A blue sign that reads "Feeling Blue?" is hung at the Garden Grove Methadone Clinic.
Johnny Bark - Johnny's son Marky tells Lindsay that Johnny died from falling out of a tree, after Lindsay postulated that he died from falling out of a tree.
Birds - Continuing the trend of birds in Season Four, a duck appears in the Fünke's house.
Halliburton Teen - The cover company for Halliburton Penitentiaries has the slogan "Live truthfully. Skate through life," which Marky Bark steals.
"Worst [bleeping] attorney" - After realizing she's living in a shit hole with Marky, Lindsay admits she has "the worst [bleep]ing shaman" as George admitted he has "the worst [bleep]ing attorney" in "Pilot".
Hidden/Background Jokes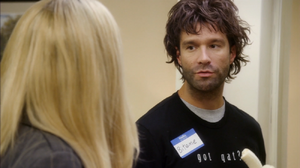 Music -

When Lindsay sees that her shaman is gone and an ostrich appears, the vocalist in the music sings "coincidence!"
When Marky Bark mentions that he owns an ostrich, the singer in the music says "coincidence!" When Lindsay says "that can't be a coincidence" the singer says "yes it is!"

Bite Me - Marky's nametag reads "Bite Me" but Lindsay reads it as "buhtimey"
John Beard - James Carr brags that he got the newsman into a house with two gatehouses. When the real estate market collapses, John Beard leaves his house and quits his job.
2006 Winter Olympics opening ceremony - In the background of the harbormaster's lodge scene, John Beard  talks about the record high ratings for the 2006 Winter Olympics opening ceremony. The final four episodes of Arrested Development's third season were burnt off on February 10, 2006 — the same day and time as the 2006 Winter Olympics opening ceremony.
Maeby's whiteboard drawings - While Tobias and Lindsay are discussing getting a home with James Carr, Maeby appears to be drawing pictures of her parents on a whiteboard with a blue marker. The drawing of Lindsay has a speech bubble saying, "Give me!" Tobias's shows him about to drop a pair of shorts onto a fire. At first, he is uncolored, wearing pants and no shirt with a blue square around his genital region. Later, he is completely colored in with the blue marker. Finally, Maeby draws penises. She especially takes advantage of numbers with 2 consecutive zeros in them. In "A New Start", when Tobias asks James Carr to be his agent, a butler with a speech bubble saying "BUTLERS LOVE KITCHENS!" can also be seen. This could be a reference to the "Family love Michael" banner in "Forget-Me-Now".
"Please Don't Squeeze the Shaman" - When Lindsay goes to hug the Shaman, he says "Please don't squeeze the Shaman," an homage to the catch-phrase, "Please don't squeeze the Charmin," from the 1980s Charmin toilet paper commercials.
Fudge: Lindsay and Tobias decide to go to an acting class because Lindsay cannot act like she loves Tobias even when thinking of fudge. At the Methadone Clinic, she has brought a box of fudge with her.
Foreshadowing/Future References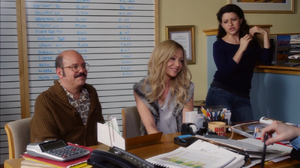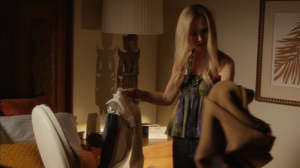 Carl Weathers - Lindsay mentions that Tobias spent all of his money on Carl Weather's "master acting classes". Which he had done multiple times throughout the series. Carl then appears in the next episode "The B. Team"
"I got my yes!" - G.O.B. screams "I got my yes!" while walking past Tobias and Lindsay. This is explained in "Colony Collapse"
Coughing - At the harbormaster's lodge, coughing can be heard. This is explained in "

Señoritis

"
Shaman 
Camera crew - A camera crew is seen in the Indian airport, explained later in "

Señoritis

"
Tobias is in India - Tobias' body and sarong can be seen in multiple scenes, and he takes her identical luggage.
ANUSTART - Lindsay and her cabbie yell at ANUSTART. Tobias shows off his license plate to James Carr, who is taken aback. The audience finally sees the license plate in "A New Start".
Lindsay is Lucille's sister

Lindsay falls in love with an activist and makes love in his crappy trailer, just as Lucille did with Oscar and his trailer.
Lindsay has a roomba like Lucille does.
Lucille tells Lindsay "You're a lot more like me than you think."
Lindsay tells Lucille, "You can't say one nice thing about your daughter." Lucille replies, "Adopted daughter...and that's not true." without saying anything nice.
Only the word "Twin" is put in quotation marks in the opening credits, though technically the quotation marks could extend to any Bluth relation given she's adopted (e.g. Lindsay's "twin brother" instead of Lindsay's "twin" brother).

Deranged bees - Marky mentions that Johnny Bark was attacked by deranged bees and fell out of a tree to his death. Johnny runs a bee company/hospital in "Colony Collapse".
"When love is near your heart will be happy." - Lindsay uses her shaman's advice poorly in "Red Hairing"
Prostitute - Lindsay tells her daughter "I'm not a whore", but does become one in "

Señoritis

"
In Comparison to the Remix
In the chronological re-cut of season 4, footage from Indian Takers is used in 5 different episodes. The original cut of Season 4 is slightly longer than the re-cut version. Because of this, various lines of dialogue and sometimes even scenes are cut. These changes, as well as which scenes appear in which remixed episode, are listed below:
Lindsay on the hillside in India, cut dialogue in italics (4x3 A Couple-A New Starts)

There is no longer a caption saying "Lindsay Bluth Fünke / neither a Bluth nor a Fünke"
Animesh: I just promised it to her.
Lindsay: I love it. It's gorgeous.

Flashbacks to the season 3 finale (4x3 A Couple-A New Starts)

Only the flashback with Sitwell and Lindsay is included in the remix, the scenes with Michael, G.O.B., and Lucille aren't included.

The coast guard's lodge (4x1 Re Cap'n Bluth and 4x3 A Couple-A New Starts)

The section from the start of the scene to Lucille saying "At least I was able to turn my Queen around" is from 4x1 Re Cap'n Bluth. The rest is in 4x3 A Couple-A New Starts.
The caption "Tobias Fünke / Lindsay's acting husband" no longer appears.
Narrator: And that's when Lindsay found a label more fitting than "Bluth".
Tobias: No, Lindsay, you're going to the wrong area.

Lindsay's trip to India (4x3 A Couple-A New Starts)

Lindsay: (packing her suitcase) There.
Lindsay: (when the bus hits someone) Oh!
Linday: (realising she has the wrong suitcase) Wait.
The following exchange is cut:

Lindsay: 65.
Veejay: 70! It'd look great on my wife or my sickly son.

Lindsay: Yeah, hi. Uh… Were you able to book my 3:00 shaman?

Lindsay and the Shaman and returning from India (4x3 A Couple-A New Starts, flashbacks in 4x5 A Trial Run, and 4x7 One Degree of Separation)

Lindsay saying "God" is cut out three times in the remix

The family meeting at Lucille's Apartment (4x3 A Couple-A New Starts)

Michael: Seriously, shoot me if you ever catch me doing that.

Lindsay and Tobias buying a new home (4x3 A Couple-A New Starts)
At the new home (4x3 A Couple-A New Starts)

Lindsay: Mother's Day eve was the most joyous day of the year.

Lindsay and Lucille work on Lindsay's testimony (4x3 A Couple-A New Starts)

Lucille: I adapted it from a letter he wrote from camp.
Lindsay: God. This is from Camp Kiss-A-Me-Mommy?

Lindsay and Tobias find out about the housing market crash (4x3 A Couple-A New Starts)
Lindsay and Tobias decide to go out to an acting class (4x5 A Trial Run)

Lindsay: But how am I supposed to say […]

At the acting class (4x5 A Trial Run)

Marky Bark: Ugh. That's not Free Trade, and if it's not Free Trade, it's (BLEEP). I wouldn't.
This exchange is mostly cut:

Marky Bark: He fell out of a tree and broke his neck.
Lindsay: Oh, God…
Marky Bark: No, I'm just kidding.
Lindsay: Oh! So how is he?
Marky Bark: Oh, he's dead. But natural causes. A bunch of deranged bees chased him out of a tree and he fell to his death.

And this one is too:

Marky Bark: She's a committee member.
Lindsay: Which committee is that?
Marky Bark: Itty-bitty (BLEEP).
Lindsay: What a wonderful sense of humor.

Lindsay and Tobias drive to C.W. Swappigan's (4x5 A Trial Run, flashbacks in 4x9 Modern Marvels)
Lindsay and Tobias eat at C.W. Swappigan's (4x5 A Trial Run and 4x9 Modern Marvels, flashbacks in 4x9 Modern Marvels)

Loretta: This your first time at C.W. Swappigan's?
The section from Marky Bark mentioning the "dumpster dive" until Tobias says "I wasn't driving?" only appears as a flashback in 4x9 Modern Marvels, despite the fact that those lines hadn't been shown before in the remix.
This background exchange is missing:

Loretta: Tennis racket, good strings, for the hot wings!
Counter man: 12 chicken wings.

Tobias: I'll clean her up. Come on, DeBrie.
Lindsay: (in the Thanksgiving flashback) It's a miracle!
Marky Bark: So you're sticking it to big banking. That's cool.
The narrator's line "Lindsay felt guilty because she was about to go enter a crab house/courtroom and do just that" becomes "Lindsay felt guilty because she had lied to her mother in her promise to testify at a trial she now knew she'd miss."

Lindsay and Marky Bark run away together (4x5 A Trial Run)

Narrator: And perhaps it was to get back at her mother or to get out of a relationship that had been over for a long time, but that's when Lindsay hopped off to pursue a life she felt was her destiny.
Marky Bark: So this guy all the way to that guy back there, that's just a piece of wood I stick in there.
Marky Bark: But I can tell you got a great heart, Lindsay. I can tell you've been living a lie. You and I are going to change this world together. Whoo!
This exchange is cut down:

Marky Bark: (to the woman in the bathroom) Sorry. False alarm. I don't love you.
Lindsay: I got to go. Can you delete this so I can leave a message for Maeby?
Marky Bark: It's good. She's fine.

And this exchange is cut:

Marky Bark: And now we've freed the night up to dance again. Come on.
Lindsay: Okay.

Marky Bark: No, no, Mom. Mom, she's with us.

Lucille's trial (4x5 A Trial Run)

This exchange is cut:

Narrator: Another chair is empty at Lucille's trial.
Barry: Lindsay…
Judge Kornzucker: Mr. Zuckerkorn, Shrimp-Shooter Night starts in 15 minutes. Is your witness going to appear?
Barry: "Appear." Oh, I thought the one on the pier was a Bubba Gump's.

Lindsay cuts her hair (completely cut from the remix)

Lindsay: Great. Even cuter.

Tobias acts at the Methodone Clinic (4x7 One Degree of Separation)
Quotes
Tobias: [singing] Oh, is that a gal I see, no it's just a fallacy!  
Tobias: Let's give it another shot... to the head. Kill it.  
Concierge: Would you like a Deep Wisdom or just a light Ego Cleanse?  
Halliburton Teen: Live truthfully. Skate through life.  
→ See more quotes from "Indian Takers" at Transcript of Indian Takers.
Notes
Promotional Photos
→ See 133 pictures from Indian Takers at Images from Indian Takers.
Behind the Scenes
Videos
External Links
ANUSTART fan page based on the anustart running joke