Jason Kent Bateman (born January 14, 1969) is an American television and film actor, and portrays Michael Bluth on Arrested Development. He also directed one episode of Season Two.
Bio
Jason Bateman is an American film and television actor who gained initial recognition for his role in the 1986 television series Valerie. He was born in Rye, New York, USA. His father, Kent Bateman, is a film and television director and founder of a Hollywood repertory stage company. His mother, Victoria Bateman, was a flight attendant. In 1981, at the age of 12, young Bateman made his debut on television as James Cooper Ingalls in 1974's Little House on the Prairie. In the mid-1980s, he became the DGA's youngest-ever director when he directed three episodes of Valerie at age 18.
He became know in the 1980s and 1990s appearing in several sitcoms including Silver Spoons and It's Your Move. In 2003 he was cast as Michael Bluth in Arrested Development for which he was nominated twice for Outstanding Lead Actor in a Comedy Series Emmy and won a Golden Globe and two Satellite Awards.
After Arrested ended in 2006 Jason went on to achieve great fame and success in the film industry. He starred in the films The Break-Up, The Ex, Smokin' Aces, The Kingdom, Juno, Hancock, Extract, Up in the Air, The Switch, Identity Thief, Horrible Bosses, and The Invention of Lying. In 2014 he produced, made his directoral debut, and starred in the film Bad Words. [1] He also starred in This is Where I Leave You, Horrible Bosses 2, Zootopia, The Gift, and Office Christmas Party.
Jason Bateman is currently starring in the Netflix Original series Ozark, where he plays Marty Byrde, a financial advisor who relocates his family to the Missouri Ozarks when his dealings with a drug cartel go awry. Jason Directed four episodes of the first season; OZARK is currently on it's third season.
Episodes directed
Jason Bateman and Amanda Anka
→ See 272 pictures of Jason Bateman at Images of Jason Bateman.
Awards
Press and Magazine Covers
Main article: 2013 Jason Bateman GQ Cover
Main article: 2013 THR Netflix Cover
Videos
→ Watch more videos at Videos of Jason Bateman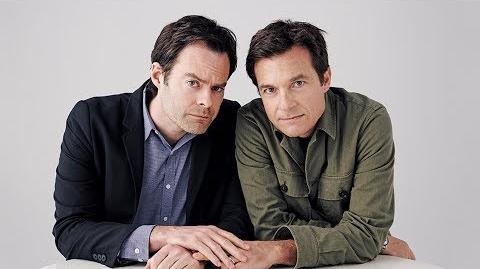 See also
References