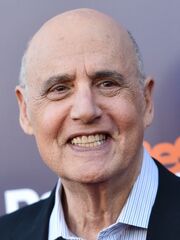 Jeffrey Michael "Mike" Tambor (born July 8, 1944) is an American actor best known for his roles as George Bluth Sr. and Oscar Bluth on Arrested Development, Hank Kingsley on The Larry Sanders Show and Maura Pfefferman on Transparent.
Bio
Tambor was born in San Francisco, California, the son of Eileen (née Salzberg), a housewife, and Michael Bernard "Mike" Tambor, a flooring contractor. He grew up in a Conservative Jewish family with roots in Hungary and Kiev, Ukraine. Tambor is a graduate of San Francisco State University, where he studied acting and then went on to receive a master's degree from Wayne State University. He began acting for the screen in the late 1970s, appearing as a recurring character in dozens of TV shows. He starred in the sitcom The Larry Sanders Show as Hank Kingsley. In 2003 Tambor was cast in Arrested Development as a guest cameo but the role expanded to a full time character.
A role Tambor began in 2009 is that of the recurring character Len Trexler in the sardonic comedy Archer, an animated television series on the FX network. He is a major love interest to Malory Archer played by Jessica Walter – the two formerly playing husband and wife in Arrested Development.
In 2011, Tambor starred in an indie comedy, Lucky. Also in 2011, he had a minor role in the film Paul with Simon Pegg and Nick Frost, reprised his Hangover role for its sequel, and was featured in Flypaper, with Patrick Dempsey and Ashley Judd. In 2012, he co-starred as Walt, Pete's aspiring musician father on the sitcom Bent starring Amanda Peet and David Walton.
In May 2013 he returned to Season Four of Arrested Development. In February 2014, Amazon premiered its original series, Transparent, which stars Tambor as Maura Pfefferman, a transgender, divorced, Jewish father of three. In 2015 Tambor won both the Emmy and the Golden Globe for best comedic actor for the role of Maura Pfefferman. He left the show ahead of its fifth season due to allegations of sexual harassment.
Jeffrey Tambor and Kasia Ostlun
→ See 121 pictures of Jeffrey Tambor at Images of Jeffrey Tambor.
Awards
Videos
→ Watch more videos of Jeffrey Tambor at Videos of Jeffrey Tambor
See also
External Links