John Beard was the anchorman for local FOX 6 News. He has appeared in several episodes to report on events that have made the headlines in the Newport Beach area.
Because he was a real-life news anchor in the area, his appearance on Arrested Development is one of the first nods to the series being a faux-documentary.
Character history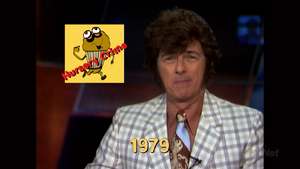 John Beard worked at the FOX 6 news station in Newport Beach for several decades. In 1979 he reported on The Muffin Man poisonings. ("S.O.B.s") In 1994 he reported on Susan Smith's crimes. ("The Cabin Show")
John Beard reported on news of the Bluth family from time to time, starting with George Bluth's arrest in 2003. ("Pilot") He also covered stories about model homes in Iraq ("Let 'Em Eat Cake")​​​ and Merry Poppuns's attacks. ("For British Eyes Only")
Besides sitting behind his anchor desk, John has been seen elsewhere in Newport Beach. He dined at the same restaurant as Michael Bluth and Kitty Sanchez when they loudly threatened each other. ("Missing Kitty") He once gave an order to cut a fluff piece about the Atkins diet featuring George Michael Bluth. ("Let 'Em Eat Cake")​​​ He also attended the Bluth family's "Save Our Bluths" party in early 2006. ("S.O.B.s")
In 2006 he reported for FOX 6 on Lucille's theft of the Queen Mary. ("Flight of the Phoenix") In the mid-2000s John Beard bought a mansion from James Carr. When the real estate market collapsed in 2007 he was in debt, causing him to storm off his job at FOX 6. ("Indian Takers") He then got a job on the early morning talk show Good News O.C. with John, Jackie, and Joan. ("Borderline Personalities") At some unknown point in time (presumably between 2007 and 2012) John Beard was the host of the in-airport news station Outwest in Lounge which specialized in fluff news stories. ("Colony Collapse") 
In April 2012 John Beard was hosting the hidden camera show John Beard's To Entrap a Local Predator: Orange County Edition: Super Creeps. ("A New Start") Days later, John Beard was hosting the gas pump news network UnLead News which he promptly quit. ("It Gets Better") By early May 2012 John had gotten a hosting job at Imagine Entertainment's I News station, reporting on Buster Bluth's alleged murder of Lucille Austero. ("Blockheads") 
John Beard also has a son, John Beard Jr., who is a disappointment to his father. ("Colony Collapse")
Images
→ See 36 pictures of John Beard at Images of John Beard.
Quotes
John Beard:
Another setback for the once prominent Bluth family as their frozen banana stand, a Newport Beach landmark, burns to the ground. A delicious whodunit... after this.
From "Top Banana"
Notes
John Beard was a real new reporter for the real-life FOX 11 news station in L.A. and has appeared on The Bernie Mac Show and 24, among others, as a news anchor. He has since left FOX 11. John is now the morning anchor on WGRZ-TV in Buffalo, NY.
John Beard appears in 31 episodes over all five seasons.
Appearances
Community content is available under
CC-BY-SA
unless otherwise noted.