"Professor" John Munch teaches Tobias Fünke a scrapbooking class in a con hoping to get Bluth family secrets out of him.
Detective John Munch, portrayed by Richard Belzer, first appeared in television in 1993's Homicide: Life on the Street and was a regular on Law & Order: SVU. The character has appeared in episodes of over ten TV series including The Beat, The Wire, The X-Files, and Law & Order.
As several series, including Homicide: Life on the Street, and Law & Order, were designed to take place in the same fictional world, it is possible to consider Arrested Development (as well as Munch's other appearances) as also taking place in the shared universe. Due to the connections however, this would also include Oz, despite it specifically being mentioned as a fictional show within Arrested Development's world, seen by George Michael in "Visiting Ours".
Character history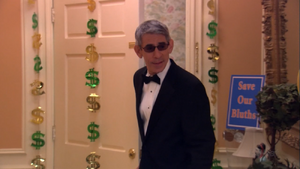 Season three
Munch appears at the Bluth family's "S.O.B.s" party. ("S.O.B.s")
He later led a fake scrapbooking class that Tobias took. The class was a sting CIA operation to elicit family secrets about the Bluth family. ("Exit Strategy")
Images
→ See 5 pictures of John Munch at Images of John Munch.
Character appearances
Season One
—
Season Two
—
Season Three
"S.O.B.s"
"Exit Strategy"
Season Four
—
Season Four Remix
—
Season Five
—