Judge Lionel Ping is a judge serving at a courthouse in Newport Beach, California. He proceeds over multiple Bluth family trials.
Character history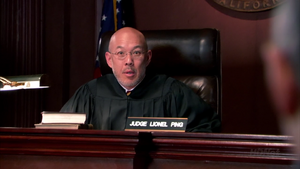 Season one
Judge Ping presides over the legal arraignment of George Bluth at the courthouse. Barry Zuckerkorn has had trials with him before and is obviously not a fan. ("Beef Consommé") At a potential settlement hearing Barry was once again upset that they were given Ping as judge. ("Altar Egos") Judge Ping saw over the next day in court as well and got upset when Michael threw a Bible at Maggie Lizer. ("Justice Is Blind")
Season two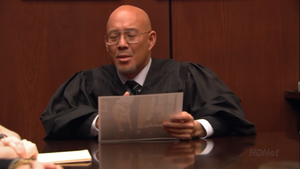 Judge Ping oversees the case of Skip Church's Bistro v. Loretta, with Loretta, represented by Maggie Lizer, suing Skip Church's Bistro, represented by Barry Zuckerkorn, for making her fat by tempting her with Skip's Scrambles. Judge Ping, like the jury, takes pity on Maggie who is pretending to be pregnant. ("Out on a Limb") He later threatens to throw Zuckerkorn out for spanking Lizer. It is unknown what happen to the trial, as Loretta turned out to be pregnant instead of fat. ("Hand to God")
Judge Ping later serves as arbitrator between G.O.B. and his wife when they get divorced. G.O.B. claims they never consummated the marriage and he is therefore not responsible for the $250,000 seal that he released into the wild. G.O.B. screws the pooch and admits to Ping that he [bleep]ed his wife. ("Motherboy XXX")
Trivia
Judge Ping is the first character to break the fourth wall on Arrested Development. He looks directly into the camera when telling the court to turn off all recording devices in "Beef Consommé".
Images
→ See 8 pictures of Judge Lionel Ping at Images of Judge Lionel Ping.
Appearances