My name is Judge.

Judge Reinhold appears as himself, as an actor who stars in a courtroom reality show called Mock Trial with J. Reinhold, in which the Bluth family was put on mock trial.
Character history
Season three
Judge Reinhold appears at the Bluth family's "Save Our Bluths" party briefly. ("S.O.B.s")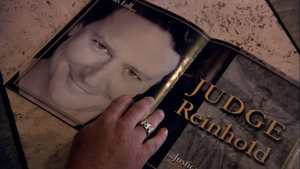 Judge Reinhold heard that Judge Judy made $25 million in 2005 so wanted to make his own courtroom TV series. He lost weight for the role and was upset when he had to wear the flowing gown a judge usually wears, so he asked his producer Jan Eagleman for something that showed his svelte frame. He also was upset that the show's title — Judge Reinhold – was a cheap ploy to get audiences to watch so he wanted Jan to change the show back to Mr. Reinhold's Courtroom. It eventually landed on Mock Trial with J. Reinhold. For the pilot episode, the Bluth family went on trial and Mr. Reinhold called mistrial after Franklin revealed that Wayne Jarvis threatened Michael. ("Fakin' It")
After informing him that wiping all of the Bluth Company computers is illegal, George calls Michael "Judge Reinhold". ("Family Ties")
Images
→ See 11 pictures of Judge Reinhold at Images of Judge Reinhold.
See also
Appearances
Season One
—
Season Two
—
Season Three
"S.O.B.s"
"Fakin' It"
Season Four
—
Season Four Remix
—
Season Five
—