Adelaide: Faker!

Nurse Julia Adelaide is a nurse who falls in love with a comatose Buster.
Character history
Season three
Actors who look exactly like Nurse Adelaide and Buster appeared in the 1941 British film A Thoroughly Polite Dustup, where the nurse swore her love to the soldier. ("Notapusy")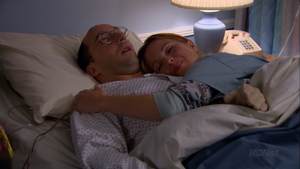 Later, when Buster falls into a "Light-to-None Coma" Adelaide is assigned to be his nurse. She walks in on Lucille attempting to cut Buster's feeding tube. She also listens to "It Ain't Easy Being White" after G.O.B. stole the doctor's tape. ("Fakin' It")
Adelaide falls in love with Buster because, in his coma, he was pure. Buster in return fell in love with her. ("Family Ties") Adelaide had fallen in love with other patients but instantly hated them when they recovered. This made Buster hesitant to leave his coma but he ultimately revealed he was awake, and she swore him off. When Michael asked for his help to rescue G.O.B. from the Iraqi prison, Buster lept to action. Although she was upset he was a faker, she swooned when she saw him acting bravely. ("Exit Strategy")
Images
→ See 12 pictures of Julia Adelaide at Images of Julia Adelaide.
Quotes
Narrator: [Buster] had fallen for his day nurse.
Adelaide: You're so dear.
Narrator: She found his complete lack of personality and movement enchanting.
Adelaide: I wish you would say something. Of course, if you did, everything would be ruined 'cause you wouldn't be as pure.  
From "Family Ties"
Appearances