Kitty Sanchez was once George Bluth's loyal personal assistant at the Bluth Company, then Michael's assistant, and eventually left the company. She has a penchant for flashing people.
Kitty is portrayed by Judy Greer and appears in thirteen episodes of Arrested Development over all five seasons.
  Kitty: And say goodbye to these!

About
Before his incarceration, Kitty was George Bluth's personal secretary, mistress, and confidant. They had a not-so-secret affair during which George revealed information about his illegal operations in the US and Iraq.
After his incarceration, Kitty became a major scourge for Michael and the Bluth family as they attempted to curb her demands so she wouldn't reveal damning evidence to the SEC. This often included caving to her demands and keeping her on the Bluth Company payroll even though she was a bad employee.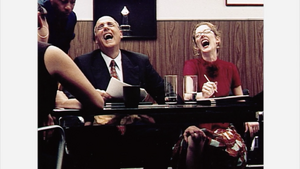 Her love for George Bluth and her inability to be with him drove her to madness. They continued their affair while he was in prison but she grew greedy and wanted to be with him and have his children. This led her to help George escape from the hospital to Mexico, but he grew tired of her and left her. ("The One Where They Build a House") Her obsession grew and eventually led her to kidnap him and hold him hostage for a child. "Never promise crazy a baby!" George said in retrospect. ("Spring Breakout") She eventually realized she had a problem and settled down and asked Michael to let her live her life in peace however, after eloping with Tobias to Reno she ran into George again and the affair flared up again. ("Righteous Brothers") George left back for Newport Beach, leaving Kitty in Reno. ("The Cabin Show")
Kitty soon found employment at Imagine Entertainment as a "D girl" (development girl). She originally worked under Maeby Fünke but got her fired, becoming a fiercely loyal personal assistant to Ron Howard (but without the "benefits" and a health plan). (4x4 — "The B. Team")
Character history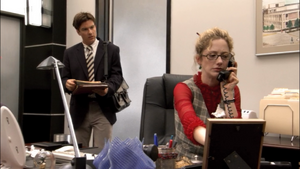 Season one
Kitty told Bluth Company investors that Michael was lying when he said some building permits were filed. She was very cagey when he tried to get information out of her. ("Charity Drive") Michael later asked her where some international files were located but she refused to tell him. He noticed she was attracted to a repulsed G.O.B. so Michael bribed him into seducing her for the information. Instead of getting the information, he "got the information" by [bleep]ing her. Later, Kitty met George at a conjugal trailer at prison. Because Lucille was also waiting in a trailer, Michael had to get G.O.B. to stall Kitty, but he snuck out a window. ("Visiting Ours")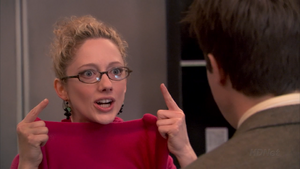 Immediately after returning to the Bluth company after a two-week medical leave to receive breast implants (that were paid for by George) Kitty took a two-week Spring Break holiday leave. Michael fired her but she laughed it off, saying he didn't have the power. After George told him that Kitty has incriminating information, Michael attempted to hire Kitty back. Her sour attitude made him change his mind and re-fired her on the spot. Scorned, she snuck onto the Bluth's yacht and although it was demolished while she was aboard, she survived and escaped with a cooler of evidence. ("Missing Kitty")
Michael is later questioned by the police for the disappearance of Kitty, but Maeby finds her hiding in the back of the police station. ("Not Without My Daughter") Soon after, Kitty attempts another power grab at the Bluth company but loses her ground when Michael realizes she only knows about George's back taxes. She attempts to get Buster to help with a coup against Michael but he cowards out. Instead, she helps George escape from the hospital to Mexico. ("Let 'Em Eat Cake")​​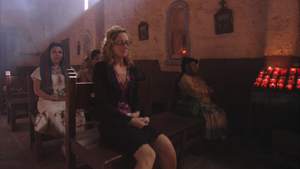 Season two
In Mexico, George is held captive in hiding by Kitty who drives him nearly to madness. ("The One Where They Build a House") He is arrested by the Mexican police who fake his death for a bribe. Kitty is seen mourning him at his fake funeral. ("¡Amigos!")
Kitty kidnaps George from the attic of the model home and holds him hostage in a hotel during Spring Break. She refuses to let him go until he impregnates her. Her backup plan of using the "H. Maddas" evidence cooler as leverage. was foiled by Michael and G.O.B., but she did come into possession of George's semen as it was in the cooler G.O.B. switched for the evidence cooler. ("Spring Breakout")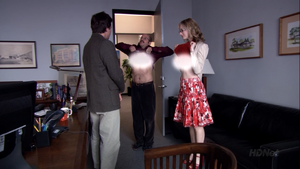 Kitty later calmed down and explained to Michael that she no longer wanted to harm the Bluth family or Bluth company if they would promise to leave her alone. Realizing that she was attracted to Tobias, Michael attempted to keep Kitty happy by having Tobias entertain her. The two eloped to Reno. ("Righteous Brothers")
Season three
After escaping to Reno with Tobias, Kitty ditches him to find and live and sleep with George, who has taken a part with the local Blue Man Group. ("The Cabin Show")
Season four
Kitty was hired as an office assistant at Imagine Entertainment in Los Angeles and worked with Maeby on pre-production of the film about the Bluth family. Kitty shelved the film and got Maeby fired when Maeby was in India filming Gangie on the Ganges: Eat, Prey, Love, Run!. (4x12 — "Señoritis")
Years later, Kitty welcomed Michael to Imagine Entertainment when he began pre-production on his Untitled Michael B. Project. (4x4 — "The B. Team")
Season five
Kitty Sanchez appears in Season Five and is still working on the Untitled Michael B. Project. In "Emotional Baggage" Michael brings Gob to see her, hoping to convince Kitty to give back the signed releases and stop the movie. Instead Kitty brings Gob inside the LEM and tries to flirt with him. But he gets a phone call from Tony Wonder, which she overhears. When Gob later tells Kitty about Buster being in jail, Kitty calls Ron Howard to pass the news onto him.
Trivia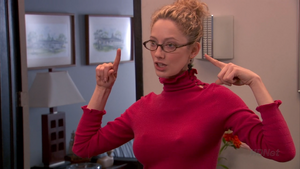 She has three nipples. ("

Missing Kitty

")
The crew of Girls with Low Self-Esteem refused to film Kitty's breasts, which, ironically, lowered her self-esteem. She had breast implants (which turned out lopsided) to ensure her place on the next year's DVD.
She was threatened by Michael Bluth at a restaurant... but it's a restaurant so it's completely different.
In the TV show Parks and Recreation, an off-network multi-camera mockumentary similar to Arrested Development, a character shouts, "You blew it. You can say goodbye to this... body," while lifting the bottom of his jacket, just a little, in a manner similar to how Kitty would. Will Arnett has guest-starred in the series, as his now ex-wife is the main character.
Images
→ See 69 pictures of Kitty Sanchez at Images of Kitty Sanchez.
Appearances