Lucille Austero, often referred to as "Lucille Two", is the friend, neighbor, and chief social rival of Lucille Bluth. She dated Buster, Carl Weathers, and G.O.B. for a short while. She also suffers from extreme vertigo.
Lucille Austero is portrayed by Liza Minnelli and appears in 21 episodes over the first, second, and fourth seasons. She last appears in "Blockheads" where she appears to have been murdered. The question remains: Who killed Lucille 2?
About
Social rivals
Lucille Austero has been social rivals with Lucille Bluth for many years. They used to be friendly with each other, but their rivalry escalated to them being extremely passive aggressive towards each other. Lucille Austero's husband passed away and Lucille Bluth would use his death as ammunition to make her feel bad. ("Key Decisions") The two eventually repair their friendship and become friends again. ("Storming the Castle") The friendship is short lived and their rivalry flares up again, eventually leading to Lucille Bluth's incarceration and loss of her lover Oscar. ("Queen B.")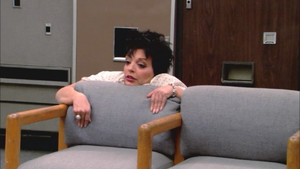 Vertigo
Lucille Austero suffers from chronic vertigo and has to take medication from falling over. She visits a clinic to help her regain balance but Michael throws it off during a fast drive in his Corvette. ("Queen for a Day")
Love life
Lucille Austero's husband died and she lives widowed at Balboa Towers. Buster inadvertently flirts with her at Los Premios Desi and she gives him her number. ("Key Decisions") The two lead a rocky and awkward relationship but she eventually moved on to flirt with Carl Weathers. ("Marta Complex") A year later, G.O.B. seduces her to convince her to sell her Bluth Company stocks back to the Bluth family. ("Burning Love") He becomes needy in their relationship (not to mention ashamed to be seen with her in public) so Lucille 2 begins to romance Stan Sitwell. ("Ready, Aim, Marry Me") A newly manly Oscar begins sleeping with Lucille 2 as well. ("Double Crossers")
Business and political careers
Lucille Austero is a very wealthy widow and she uses her assets to live a comfortable lifestyle and invest in the Bluth Company as their friend. ("Burning Love") She is also part owner of the rehab clinic Austerity which is run by her younger brother Argyle Austero. ("Smashed") In 2006 Michael decides to sell his Bluth Company shares to her so he can start the Michael B. Company and she renamed the company the Austero Bluth Company. ("Flight of the Phoenix") She then decides to run on the Democratic ticket for Congress in the 2012 election. She adopted Perfecto Telles to appeal to the Hispanic voters of Newport Beach and gives a speech at Cinco de Cuatro. ("Señoritis")
Nickname
Lucille Austero is known as "Lucille 2" by the Bluth family to distinguish her from "Lucille 1", their mother Lucille Bluth. She dislikes the nickname. ("Red Hairing") From time to time the nickname causes more confusion, such as in places where Lucille 2 is actually the primary Lucille, such as Austerity. ("Queen B.")
Disappearance
Main article: Who killed Lucille 2?
On the night of Cinco de Cuatro Lucille Austero goes missing. Nearly every member of the Bluth family has motive, as do some of her political opponents and other friends. In the end, Buster admitted to killing her.
Character history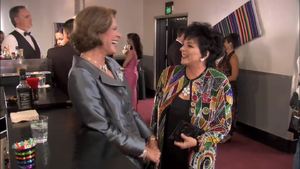 Season One
Lucille and Lucille insult/joke with each other at the bar during Los Premios Desi. Buster, who is not wearing his glasses, accidentally flirts with her and she gives him her number. She runs into him in the hospital and he has a panic attack which triggers a vertigo attack for her. ("Key Decisions")
Buster afraid of Lucille Austero, hides in his mother's apartment even though Lucille Austero continually calls him. He attends the Save the Wetlands Bachelorette Auction to bid on his mother but accidentally bids on Lucille Austero, which makes her swoon. Buster decides to give the relationship a shot. ("Charity Drive")
Buster and Lucille 2, now secretly dating, only see each other in Lucille 2's apartment. When she suggests going out, Buster becomes afraid and ashamed. He finally musters the courage to kiss her and to attend the Living Classics Pageant with her. When the crowd boos George Michael, Buster assumes the shouts of disgust are directed toward him and has a panic attack. ("In God We Trust")
Buster and Lucille 2 enjoy lunch together on Lucille 2's balcony. When his mother steps outside Buster dives through the widow Austero's window. ("My Mother, the Car")
Buster and Lucille 2 have taken more steps in their relationship, including building a fort in Buster's room and kissing inside it. They attend G.O.B.'s magic show at the Gothic Castle where Lucille Bluth's anger only draws them closer together. When Lucille Bluth decides to give them her blessing, they are actually driven apart by her friendliness. Buster, as usual, suffers from a panic attack. ("Storming the Castle")
Buster asks George Michael to acquire some marijuana for Lucille 2's vertigo, as she has been suffering more and more attacks recently. ("Pier Pressure")
Lucille Bluth introduces Lucille Austero to Carl Weathers and the two hit it off. Buster begins to get on her nerves and when he is kicked out of his mother's apartment she does not let him move in with her, ending their relationship. ("Marta Complex")
Season Two
After spending time in a clinic to eliminate her chronic vertigo, Lucille 2 becomes the majority shareholder of the Bluth company when the Bluth family members sell their shares. Michael attempts to woo her and get her to hand over the shares but her vertigo is reactivated by his Corvette. She decides to hand over the shares if Michael gives her the Tobias is Queen Mary bar. G.O.B. also [bleep]s Lucille, who in turn names him the president of the Bluth Company. ("Queen for a Day")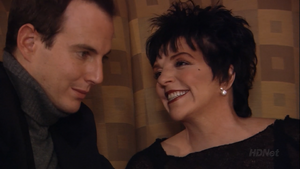 Although continuously stating that he is disgusted by her, G.O.B. continues to date Lucille 2. Buster at the time is dating Starla, the Bluth Company receptionist. After learning his older brother is dating his ex-girlfriend, Buster leaves Starla to pursue Lucille. G.O.B. then bids on her at the bachelorette auction. ("Burning Love")
Michael becomes concerned that Lucille 2 (now growing tired of G.O.B.'s neediness) is working with Stan Sitwell to take control of the Bluth company so G.O.B. and Buster follow them on their getaway package from the bachelorette auction. They bust in and try to convince her to take them back but Lucille 2 becomes upset that they interrupted her romantic date with Stan and decides to sell her shares to Stan. ("Ready, Aim, Marry Me")
Season Four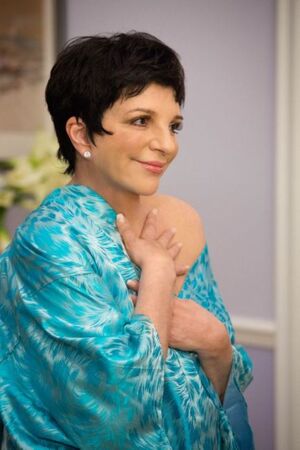 Moments after purchasing a controlling share from Lucille Bluth, Stan Sitwell sells the Bluth Company to Lucille Austero. Over the following five years Lucille Two uses the newly named Austero Bluth Company to gain attention for running for Congress against Republican Herbert Love.
Meanwhile, Michael Bluth sells her all his Bluth Company stocks and later borrows $700,000 to finish building Sudden Valley. Due to the real estate market collapse he is unable to repay her. He tries to seduce her to get the money, but she dodges his advances. ("Flight of the Phoenix") ("Blockheads")
Lucille 2 goes missing during the 2012 Cinco de Cuatro celebration. ("Queen B.") Buster is arrested in connection with her disappearance after touching her blood on the stair car. ("Blockheads") However, the truth of what happened remains a mystery.
Season Five
Buster is arrested for Lucille 2's murder, he is released in "Courting Disasters". During Gob's Fakeblock illusion Buster has to get a mannequin to put in the wall. Buster admits to pushing Lucille 2 down the stairs. When they get the mannequin out of the wall it is revealed to be Lucille 2's corpse. Buster then says "Yeah, so I did it". In the season finale it is also revealed that the horrible thing done by Michael in front of Lucille 2 is his chicken dance.
Trivia
Lucille's stock holding is called "Stand Poor", serving as nod to her vertigo as well as a reference to Stan Sitwell. 
Lucille Austero may have pretended to have a pretend child for several years. 
As Minnelli revealed in her interview on Inside the Actors Studio, she did all her own stunts, since she learned to fall almost ten different ways.
Images
→ See 100 pictures of Lucille Austero at Images of Lucille Austero.
Appearances