Lucille Austero lives in a penthouse in Balboa Towers opposite the Bluth family.
The Set
Season One
Season Two
Season Four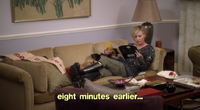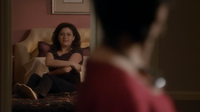 Perfecto was adopted by Lucille Austero during her Congressional campaign as an attempt to appeal to Hispanic voters. ("Borderline Personalities")
After cutting her and changing her lifestyle with Marky Bark, Lindsay and Marky leave the ostrich farm and move into Balboa Towers with Cindy the Ostrich. Lindsay sneaks away to spend time with Lucille Austero to talk about Lucille's campaign and says that she would like to be her campaign manager; she made a banner for her campaign. She also goes to Lucille to enjoy fashion and get out of the clothes she has been wearing since meeting Marky Bark. ("Red Hairing")
Maeby attended high school and dated Perfecto Telles until she saw him in a bar and determined he was an undercover cop. Maeby successfully seduced Perfecto Telles and at Cinco de Cuatro she tried to use their intimacy as blackmail to get him kicked out of school. However, he turned out to not be a cop and was only 17, so she was arrested by Rocky Richter-Wang (the actual undercover cop) for being a sexual predator. ("Señoritis")
On the night before Lucille Bluth's trial, Buster was lured into Lucille Austero's apartment and passed out of a juice overload. He ran to the trial but she was sent away to prison, mocking him. He then moved in with Lucille Austero because he needed a mother figure in his life, but she thought he needed a lover. Lucille 2 eventually kicked him out so he sold the jewels he got on his hook to raise money to find a new place to live. ("Off the Hook")
Season Five
Community content is available under
CC-BY-SA
unless otherwise noted.