Marc Cherry is the creator of Desperate Housewives and appears on Arrested Development as himself.
In Season Four a new character named "baby-faced singer Mark Cherry" was added, not to be confused with "baby-faced showrunner Marc Cherry". ("Colony Collapse")
Character history
Season two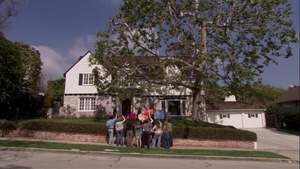 Cherry's house is protested by Ann's church group over the sinful nature of Desperate Housewives. Cherry notices the protesters and exclaims that his show is a satire, causing Ann to kiss George Michael. ("Righteous Brothers")
Cherry wrote for The Golden Girls with Arrested Development creator Mitchell Hurwitz, and the two are good friends. Cherry's show Desperate Housewives would beat Arrested Development at several entertainment industry awards for the 2005 TV season.
See also