Mark Cherry (no relation to baby-faced showrunner Marc Cherry) is a baby-faced pop singer that takes G.O.B. into his entourage as limo driver. After his party lifestyle came to a head, he entered into rehab at Austerity.
Cherry is best known for appearing on the teen TV show Pop-a-R.O.T.C. and for singing the songs "Practice Kisses", which went platinum, and "Getaway".
Character history
Season four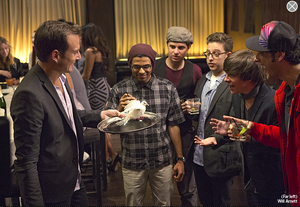 Mark is a fan of magic and meets G.O.B. in a bar, where G.O.B. entertains the singer with illusions. G.O.B. helps a drunk underage Mark escape the paparazzi, which leads to him joining Mark's entourage with the nickname "Getaway". G.O.B.'s constant intrusions into Mark's life eventually lead Mark to write a song "Getaway", which G.O.B. does not realize is about him. After several years of self-delusion G.O.B. finally realizes that he is unpopular in the group and tries to make amends by bringing women into Mark's limo. Unfortunately for G.O.B., bees escape and land Mark and the rest of his entourage in the hospital. ("Colony Collapse")
Mark later enters rehab at Austerity, Lucille 2's clinic, where his therapist is Tobias Fünke. Tobias is star struck and later enlists Cherry's talent to write the songs for Fantastic 4: An Action Musical. Tobias praises him as his therapist but insults him as his director. ("Smashed") Cherry also writes songs for Lucille Bluth's character in Fantastic 4. ("Queen B.")
Images
→ See 20 pictures of Mark Cherry at Images of Mark Cherry.
Appearances