"Marta Complex" is the twelfth episode of Arrested Development's first season.
When Lucille throws an anniversary party for Tobias and Lindsay on Valentine's Day, Michael gives an impassioned speech about love. This makes Marta realize she has feelings for him and Lindsay realize she wants a divorce. Meanwhile, Buster decides to move out of the penthouse and Lucille revels in living alone for the first time.
Synopsis
In search of Hermano
At Lucille's Valentine's Day / Anniversary Party for Tobias and Lindsay, the Bluth family celebrates with Marta Estrella, G.O.B.'s on-again off-again girlfriend. The family chants for a speech and Michael takes the opportunity to say some words about the importance of family. Marta realizes that Michael is the Bluth man she should be with.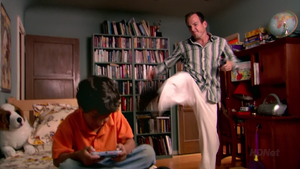 The next day, G.O.B. asks for Michael's help to track down "Hermano"—a man he suspects Marta is cheating on him with. Michael, who secretly is attracted to Marta, vows to help and tails Marta around the city all day and sees her buy a high-end men's suit. He follows her to the set of El Amor Prohibido and approaches two men who say that Hermano is the other. He loses her and finds her at the model house, where she asks him to dinner at her place.
They have a very nice dinner but Amable tells Michael that Hermano is in the bedroom. Michael confronts Marta and tells her he is disappointed that she would cheat on G.O.B. with another man. Amable shows Michael that "hermano" means "brother" in Spanish and Michael finds the suit Marta bought - with a love letter to Michael.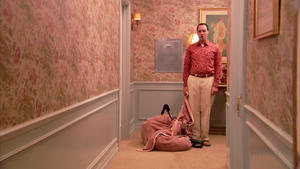 Buster on his own
Lucille Austero attends the Anniversary party as Buster's date. A jealous Lucille Bluth introduces her to Carl Weathers, much to the chagrin of Buster. The two hit it off and set a dinner date. Michael advises that Buster move out and he attempts to move next door with Lucille Austero, but she is in Carl's company making stew. Buster takes his possessions to the model home where he sees Marta. He realizes he has been dating an old lady and falls in love with her, and spends his time watching her soap opera and learning Spanish.
Lucille visits George in prison to express her fear of being alone. He suggests she watch his Caged Wisdom video to calm herself. She leaves and finds that living alone can be enjoyable, by eating cake and drinking wine all night.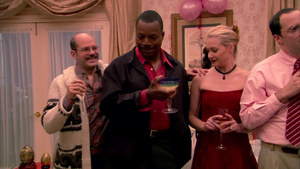 Rough water for the Fünkes
Also at the Anniversary party is Carl Weathers -- Tobias' acting coach. He continues to give Tobias lessons on thrift, including how to make stew. Tobias gets upset that he's not learning much about acting and asks for his $1,100 back. Carl does manage to get Tobias an audition for the role of Frightened Inmate #2, which he lands. Tobias is excited for the role, but devastated when he finds out it is a shower scene.
Michael's speech at the party inspires Lindsay to get a divorce from Tobias, claiming that his Never Nude affliction is giving them intimacy issues. The Fünkes change bedrooms in case Lindsay and Maeby and her need to bolt in the night. George Michael is now sharing a room with Tobias, and he fears Tobias has figure out his crush on Maeby based on a "maybe tonight" candy heart that was thrown at Tobias. Tobias does tell George Michael that he and Lindsay couldn't conceive, which starts George Michael on a DNA witch hunt.
Appearances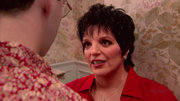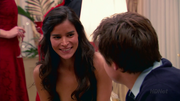 Recurring
Guest
Bashir Salahuddin as Prisoner
Recurring themes
References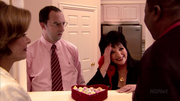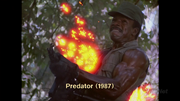 Action Jackson - Maeby references this film starring Carl Weathers.
Guess Who's Coming to Dinner - Lucille's comment while inviting Carl Weathers to dine with Lucille Austero references this 1967 film about a white American woman who brings her African-American fiancee home to meet her parents.
Gypsy - The music played while Lucille learns to enjoy being alone is "Rose's Turn" from this musical based on the life of Gypsy Rose Lee. This musical would again be referenced in the next episode, "Beef Consommé".

The scene where Lucille is dancing to Rose's Turn is later mirrored by Buster in "Spring Breakout".

Predator - When introducing Carl Weathers, a clip is shown from his role in that movie.
Callbacks/Running Jokes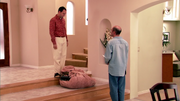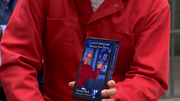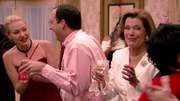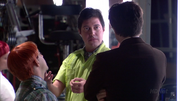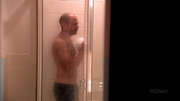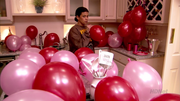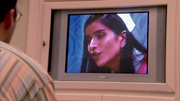 Blow myself - Buster's line "I can blow myself" when Lucille holds a tissue under his nose mimics Tobias's line, "I just blue myself" from "The One Where Michael Leaves".
"Hey" - Buster says, "hey, brother" to Michael, and "hey, brother-in-law" to Tobias, again demonstrating his tendency to refer to people by their relationship to him instead of their name, first seen in "Key Decisions".
Caged Wisdom - This is the first time we see George Sr.'s home video he creates and markets while in prison.
Carl Weathers is Cheap - We see more instances of Carl Weather's thriftiness.

He tells Tobias not to throw out a bone, as it can be made into a stew with a couple of potatoes and some broth.
While standing on the balcony, he tells Tobias about taking leftovers from the craft service table and making a stew out of them.

Chanting - The family all chant "speech", as they do in several more episodes, such as "Development Arrested".
El Amor Prohibido - This is the first time we see the set of the soap opera that Marta appears in.
"Hermano" - G.O.B. would later refer to Michael as "hermano" in "Best Man for the Gob", and George Sr. can't remember the Spanish word for brother in "The One Where They Build a House".
"I'm okay with that" - Michael uses the phrase for the first time, referring to G.O.B. dating Marta instead of him. The phrase would be used much more at the beginning of Season Two when G.O.B. is president of the company instead of Michael.
"I've made a huge mistake" - Several characters are seen saying this line, first seen in "Key Decisions".

G.O.B. says it in two flashbacks from the earlier episode.
Marta says it after realizing she is in love with Michael.
Michael says it after realizing Marta is in love with him.

Never Nude - Another instance of Tobias' incapability of being completely nude. He can also be seen unpacking several cutoffs when moving into George Michael's room.
"No. I love it." - The line Carl Weathers says about ham would be used again by Steve Holt about magic in "For British Eyes Only".
Party - Lucille throws yet another party in this episode, this time for Valentine's Day, though she later finds it was intended as Lindsay and Tobias's anniversary party.
Is Tobias gay? - More jokes are made at the expense of Tobias's sexuality.

Maeby says that he has a "big-boy crush on Action Jackson", meaning Carl Weathers.
Between Tobias and Lindsay is Carl Weathers, similar to the group of hot sailors between Tobias and Lindsay in "Development Arrested".
Tobias reveals that he hasn't made love to Lindsay in quite some time.

The Spanish Language - In both this episode and the following episode, much of the plot is predicated on numerous characters misinterpreting the Spanish language, the specific detail being both Michael and G.O.B.'s misunderstanding of the word 'Hermano' (Especially strange since G.O.B. knows the French word for brother, despite having studied Spanish for four years).
Hidden/Background Jokes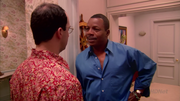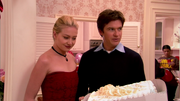 Class - When Carl Weathers says "I thought you had class" to Buster, he's referring to Buster's studies. When Buster says back to Carl Weathers, and then to Lucille 2, "I thought YOU had class," he means as in dignity, poise, etc.
Lupe's wrong-season sweatshirt - During the Valentine's Day party, Lupe is wearing a Thanksgiving-themed sweatshirt, which mirrors her Halloween shirt during the Christmas party.
Maeby can be heard several times during the party blowing bubbles into her soda.
On the set of El Amor Prohibido, the makeup artist that Michael believes to be "Hermano" can be seen checking Michael out from behind as he walks away.
Foreshadowing/Future References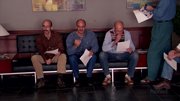 Frightened Inmate #2 - Tobias's role would be a subject in several more episodes, most notably in "Staff Infection", when he has himself incarcerated in George Sr.'s prison for research.
Maeby's Parents - This is the first indication we receive that Maeby might not be George Michael's biological cousin, a concept that would come up several more times over the span of the series.
Quotes
→ See more quotes from "Marta Complex" at Transcript of Marta Complex.
Notes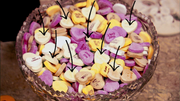 This episode was intended as the Valentine's Day episode, and several decorations can be seen throughout the episode.
This episode's title is a reference to the term "Martyr Complex."
When Arrested Development was first picked up by FOX, it was for only 13 episodes, so this episode was largely intended only to set up the next episode, "Beef Consommé", which continues the storylines involving Marta, George Michael searching for Maeby's parentage, and Lindsay's marital difficulties with Tobias, and was designed to possibly serve as the series finale.
This episode is rated TV-PG-LV.
Images
→ See more images from "Marta Complex" at Category:Images from Marta Complex.
Episode Clips