Marta Estrella is a Colombian actress on the Spanish language soap opera El Amor Prohibido. She is nominated for an award at Los Premios Desi for her acting.
She has two sons, Amable and Cortesio, and was the former girlfriend of G.O.B. and Michael Bluth. Buster also loved her, watching her show and renting a mariachi band for her, though she had no idea who he was.
Marta was portrayed by two actresses: Leonor Varela appeared in two episodes and left due to scheduling conflicts. Patricia Velasquez appeared in five additional episodes; all over the span of Season One.
Character history
Season one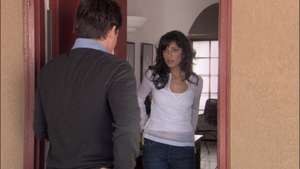 G.O.B., having been kicked out of his Marta's house, looks for a place to stay with his family before making amends and moving back in. ("Bringing Up Buster") Shortly after moving back in, G.O.B. grows tired of the relationship and tries a prison escape illusion publicity stunt by attempting to escape from the Orange County Prison. While he is in prison, Michael takes Marta to Los Premios Desi and falls in love with her. When G.O.B. is stabbed in prison he recommits himself to Marta but realizes that he has made "a huge mistake". ("Key Decisions")
G.O.B., still living with Marta, is once again growing tired of the relationship. Michael drunkenly tells Lindsay that he loves Marta. ("In God We Trust") G.O.B. begins cheating on Marta. ("My Mother, the Car") Michael concocts a plan to have Marta learn of G.O.B.'s infidelity during G.O.B.'s magic act in G.O.B.'s saw the lady in half illusion, but realizes he is too nice of a guy to do that to his brother. ("Storming the Castle")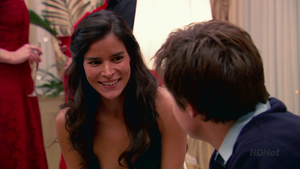 Michael lets slip that he loves Marta and she realizes that she would rather be with him than G.O.B.. G.O.B. and Michael go on a witch hunt for a man named "Hermano" that Marta won't stop talking about, but it turns out "hermano" means "brother". Marta tries to tell Michael that she loves him but he inadvertently stops her before learning the truth about "hermano". Meanwhile, Buster begins watching Marta's show and falls deeply in love with her. ("Marta Complex") Michael and Marta begin to secretly see each other but are constantly interrupted by G.O.B. so Michael begins to inform his brother of what is happening. They begin to fight in the courtyard of the courthouse. Buster joins in, and the three brothers fight for the woman they love. Marta catches them fighting and leaves them all because she could only be with someone who respected family as much as she does. ("Beef Consommé")
Images
→ See 27 pictures of Marta Estrella at Images of Marta Estrella.
Trivia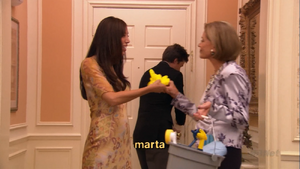 Among Arrested Development fans Leonor Varela's Marta has been dubbed Marta 1.0 and Patricia Velasquez's Marta has been dubbed Marta 2.0. This is a theme continued with Ann Veal's two actresses and similar to how the show dubs Lucille Austero "Lucille 2".
Writers introduced Marta 3.0 in "Forget-Me-Now" as a woman Michael Bluth formerly dated. It's unlikely she is supposed to be another portrayal of Marta Estrella as Michael casually introduces her to his mother, who hands her cleaning supplies.
Appearances