Nichael "Michael" Bluth is the main character of Arrested Development. He is portrayed by Jason Bateman and appears in all 84 episodes of the series. He was last seen in "The Fallout."
About
Michael is the straight man to his outlandish Bluth family, but he also has many peculiarities. He likes being right so much that it pains him when he is incorrect. He has trouble keeping his dating life normal, and although he prides himself on being a good parent he often misinterprets what his son is experiencing.

Michael is the son of real estate mogul George Bluth. He takes over as President of The Bluth Company when his father is incarcerated for fraud. He is the son of Lucille Bluth and is frequently called by her when she needs a favor. He is the father to George Michael Bluth whom he tries to help navigate through awkward adolescence. He is the brother to Buster and G.O.B. both of whom Michael often has to clean up after. His sister Lindsay, her husband Tobias, and their daughter Maeby move in with him after hitting financial woes of their own.
Family
Michael's legal birth name is "Nichael Bluth" due to a typo on his birth certificate and he was born on December 14, 1967. He was raised believing he had a fraternal twin sister Lindsay but the two later discovered that she was originally Nellie Sitwell, and adopted out from under Stan Sitwell at the age of 3. ("Development Arrested") He often fought with his older brother G.O.B., usually due to egging on by their father. ("Making a Stand") His younger brother Buster tried to avoid this conflict at all costs. Despite not learning the importance of family from his verbally abusive mother Lucille or absent father George, Michael grew to believe that the most important thing in the world is family. Michael married his high school sweetheart Tracy in 1989, his sophomore year of college. ("The Ocean Walker")  ("Public Relations") Together they conceived George Michael Bluth. Tracy passed away around the year 2000 from ovarian cancer, causing Michael to become overly protective of George Michael. ("Prison Break-In")
Romantic history
According to G.O.B., Michael had only had sex four times. According to Michael he had had sex with only four different women, one of them being his wife whom he married in college. ("Marta Complex") Michael, heartbroken by his wife's passing, didn't date for several years. He became attracted to Jessie Bowers but called it off because he didn't want to make George Michael uncomfortable. ("Public Relations") After learning his son was alright with him dating again, he met G.O.B.'s girlfriend Marta Estrella and discovered she valued family. ("Marta Complex") He also briefly saw George Michael's teacher Beth Baerly ("Shock and Aww"), (fake) blind prosecutor Maggie Lizer whom he met at a bar under the false name Chareth Cutestory ("Altar Egos") and his childhood crush Sally Sitwell. ("Burning Love")

In 2006, Michael met the beautiful Rita Leeds at Wee Britain and they two were immediately attracted to each other. ("For British Eyes Only") He thought she was a spy against his family so he called Bob Loblaw to have her deported. ("Mr. F") Realizing his mistake, Michael apologized and proposed so she wouldn't have to leave the country. After he discovered she was a MRF, he called off the wedding. ("The Ocean Walker")

Michael met Rebel Alley outside the offices of Imagine Entertainment but didn't catch her name until after they made out in a photo booth. ("The B. Team") Believing she was the mistress of Ron Howard, he asked him if he could break it off but Ron, disgusted that Michael thought they were incestuous swore he would never let Michael date Rebel. ("Smashed") Michael continued to woo her away from the other man (who turned out to be George Michael.) ("Blockheads")
Career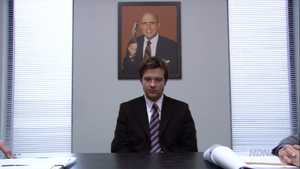 As a child, Michael worked at Bluth's Original Frozen Banana Stand. Either in college or shortly after graduating, Michael began working for his father at the Bluth Company. He put in an honest day's work and never stole from the company, unlike the rest of his family. His father was impressed by his work ethic but he constantly shot his son down to keep working hard for his approval. ("Switch Hitter") When George retired in 2003, Michael assumed he was going to be president of the company. George, under poor legal advice, gave the position to Lucille, who tried to give the responsibility to Buster. Michael took charge and took over the role, where he served for nearly a year. ("Pilot") All the while he was constantly undermined by his father who attempted to run the company while in prison and later on the lam.

After George escaped from prison, Michael was investigated by the SEC for being a potential aid. G.O.B. was then made president by wowing the board of directors with his raining pennies illusion. ("The One Where Michael Leaves") Michael, now Vice President, kept the company afloat while his older brother, just trying to impress him, only played the role. ("The One Where They Build a House") Michael eventually got the position back when G.O.B. leaves to work at Sitwell Enterprises, but Lucille Austero, the majority shareholder of the Bluth Company, makes G.O.B. president again when they become an item. ("Switch Hitter") ("Burning Love") G.O.B. attempted to fire Michael for arguing with him but somehow was fired himself so Michael regained his job as president, yet again. ("The Immaculate Election") It wasn't until George was exonerated that he finally got the approval and recognition as president of the Bluth Company. ("Development Arrested")

This didn't last long as he sold his remaining Bluth Company shares to Lucille Austero and bought Sudden Valley for himself to finished development under the Michael B. Company. The housing market then collapsed and even another $700,000 loan could support Michael. ("Flight of the Phoenix") He began driving a Google Street View car for some spending money and also started working with Ron Howard on the Untitled Michael B. Project. ("The B. Team")
Personality
Michael is probably the most functional Bluth and is a source of stability for his family (much to his chagrin). He is responsible, smart, hard working, and mostly self-sacrificing. However, Michael sometimes behaves unethically, has a false sense of superiority, a problem letting go of control, and tends not to listen to his son's feelings when making decisions for him. When he moves into his son's dorm, he exhibits clingy behavior, boundary issues, and a knack for emotional manipulation. He is especially critical of George Michael's girlfriend, Ann, often forgetting her name, and frequently referring to her as any number of random, only loosely appropriate adjectives, including "Egg," "Plant," and (with thinly-veiled disappointment) "Her?" 

After his family dispersed and his son moved to college, Michael began to emotionally unravel. ("Flight of the Phoenix") After being "betrayed" by his son Michael continued to spiral, not caring what happened to his family. He eventually spiraled to the point of trying to sleep with Lucille Austero for money and to trying to steal a woman away from his own son. ("Blockheads")
Character history
Season one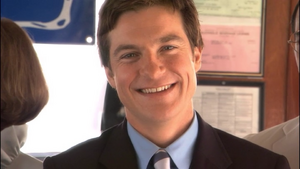 In Season One, Michael had to take the reigns of the floundering Bluth Company after his father was arrested for stealing funds and defrauding investors. He also had to help his family adjust to a new, less glamorous life. This included helping his family attempt to find work as well as helping Lindsay with her failing marriage to Tobias. All the while, Michael attempted to support his son George Michael through high school and the oddities that his family brought to their lives.
Season two
In Season Two, Michael stepped down as president of the Bluth Company to appease the board, as he was under investigation for assisting his father escape prison. He continued to really run the company while G.O.B. took the glory of being president. He also helped hide his father in the model home's attic while they attempted to figure out a legal solution to the "light treason" and fraud charges against George.
Season three
In Season Three Michael continued to run the Bluth Company (once again as president) and prepare for George's upcoming trial. While investigating his father's claim that he was set up by a British syndicate, Michael meets and falls in love with the lovely Rita Leeds, whom he nearly married until he discovers she is an MRF. While searching through family memorabilia, Michael discovers his legal birth name is Nichael due to a typo on his birth certificate. Michael and his two brothers travel to Iraq and discover that George was set up by the CIA via a British syndicate to build model homes to monitor Saddam Hussein. George is exonerated and Michael is made the rightful president of the Bluth Company, before he decides to abscond to Cabo with his son.
Season four
Michael sells his remaining shares of the Bluth Company to Lucille Austero to form the Michael B. Company and to finish development on Sudden Valley. When the housing market collapses and Pete the mailman dies, Michael moves in with his son at UC Irvine. He is kicked out of the dorm and temporarily moves to Phoenix but comes back and lives in Balboa Towers.

After appearing in an issue of Altitude in-flight magazine, Michael meets with Ron Howard who wants to make a movie about the financial collapse. Michael then meets Rebel and takes a liking to her. He tries to get his family members signatures for the Untitled Michael B. Project (but some of them he rips up out of pettiness.

Michael assumed Rebel was Ron's mistress, not daughter. When he asked Ron to let her go, he nearly tried to cover by saying he thought they were incestuous. Ron then swore to not let Michael date Rebel. He still continued to try and even discovered that his son George Michael was also sleeping with her. Upset, Michael tried to get his son out of the picture rather than being the bigger man and walking away. When George Michael discovered this, he punched Michael in the face.

Michael's focus episodes are "Flight of the Phoenix" and "The B. Team". He appears in all 15 Season Four episodes.
Season Five
In season five Michael ends his relationship with Rebel. Michael is fired from Imagine and stays at Search two months. After the Family of the Year ceremony, Michael decides to stay and reunites with his son.
Michael becomes president of the Bluth Company. Michael buys Fakeblock with the Chinese investors' money. Michael is confronted by George Michael about using Fakeblock for the wall and later fired. At Buster's trial Michael, thinking that Lucille killed Mimi, tries to save Buster, but later starts accusing himself. It's a mistrial.
At the Fakeblock unveiling, the Chinese want to buy Fakeblock, and Michael boyfights his son over it, he wins the fight and sells Fakeblock. It is revealed that the two faked the whole thing. Michael also remembers what he did on Cinco: he argued with Lucille 2 on the staircar, did his chicken dance, fell down the stairs, ruined his shirt and changed it. Michael drives away in the staircar with George Michael. Everyone thinks he will come back.
Quotes
Michael:
I'm the worst Bluth.
Notes
Images
→ See 1,069 pictures of Michael Bluth at Images of Michael Bluth.
Videos
→ Watch more videos of Michael Bluth at Category:Videos of Michael Bluth