Mort Meyers was a Tantamount Studios executive that worked with Maeby. Although he does have a wife, Mort often hit on Maeby, believing that she was older than she really is. He was fired from Tanamount and entered the technology sector, founding Schnoodle.
Mort is portrayed by Jeff Garlin and appears in eleven episodes over Seasons Two, Three, and Four. He was last seen being fired from Fakeblock by George Michael in "Blockheads".
Character history
Season two
Tobias spreads the name "Fünke" around Tantamount Studios, hoping the hype will help him land the role of "Confidence Man #2". When he comes to audition in front of Mort, he says his name is Tobias (forgetting to include "Fünke") and Mort passes on him because he is too short. Mort then runs into Maeby Fünke in the hallway and thinks she is the "Fünke" everyone has been talking about and fast-tracks her The Young Man and the Beach film. ("Switch Hitter")
Maeby returns to Tantamount Studios and Mort flirts with her until Maeby brings up his wife. ("Queen for a Day") Mort threatens Maeby's job unless she fixes the script for The Young Man and the Beach so he sends her on assignment to Spring Break. ("Spring Breakout") Mort fires the entire staff behind Almost Cousins and leaves Maeby in charge of cutting it down to fix it. ("Righteous Brothers")
Season three
After Love, Indubitably fails at the box office, Maeby pitches to Mort that the Hell Tunnel on the Tantamount Studios Tour be turned into the Tunnel of Love, Indubitably. ("Mr. F") Mort challenges Maeby to fix a floundering horror movie, so she uses an image of her grandmother post-skin peel as the basis of the monster in Gangee, which Mort fast-tracks a sequel. ("Making a Stand")
After Maeby was fired for only being 16 years old, Mort was excited to be able to shop her family story around to be made into a TV series. When they pitched it to Ron Howard, he suggested a movie. ("Development Arrested")
Season four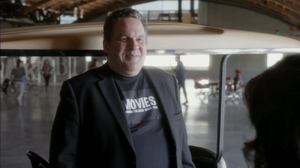 After passing on the Hunger Games films, Mort was fired from Tantamount Studios. His exit was graceful but he later snuck back into their offices to defecate on his former boss' desk. He went on to launch Schnoodle, an internet company to save face. (4x12 — "Señoritis") Mort revealed Schnoodle to the world on April 20, 2012 at The Century Plaza with Tony Wonder. (4x7 — "Colony Collapse") Marky Bark's glitter bomb caused the power to fail and Schnoodle's servers crashed, destroying the program and the company. (4x13 — "It Gets Better")
Maeby gave him a job at Fakeblock because she felt bad for him, and thought of him as a mascot. (4x12 — "Señoritis") George Michael then had to make the difficult decision to fire Mort from the company founded on a lie. (4x15 — "Blockheads")
Images
→ See 24 pictures of Mort Meyers at Images of Mort Meyers.
Appearances