Mr. Bananagrabber is a cartoon character used to promote the Bluths' banana stand. He is an anthropomorphic banana who rides a Segway and steals and eats other bananas. When he speaks, his "S" sounds whistle.
  Michael: Why would a banana grab another banana? Those are the kinds of questions I don't want to answer.

About
Season one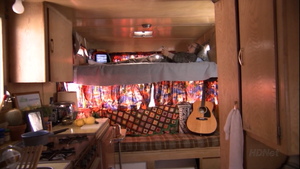 Mr. Bananagrabber's name and origin came from G.O.B., who thought of the character as being similar to Hamburglar, a character from McDonald's advertisements.
G.O.B. later gave Michael permission to use the character (along with Baby Bananagrabber, and any other Bananagrabber family character that might emanate therefrom) and animation rights. As the character was still undefined, Michael contemplated the character being either a man who steals bananas or a banana who, for some reason, grabs other bananas.
At the end of the episode, G.O.B. rues dealing away the animation rights after he sees an animation of Mr. Bananagrabber grabbing a banana away from a frog. ("Charity Drive")
The Mr. Bananagrabber cartoon can be heard playing in the background of Oscar's trailer. ("Whistler's Mother")
Seasons two & four
Mr. Bananagrabber makes a split-second appearance in George Michael's campaign video. ("The Immaculate Election"). He can also be seen in the opening montage for Scandalmakers. ("Spring Breakout")("The B. Team")
Trivia
Mr. Bananagrabber also made a brief appearance in Mitch Hurwitz's other show Sit Down, Shut Up.
Community content is available under
CC-BY-SA
unless otherwise noted.