Nellie is a prostitute that Michael mistakenly thinks is his sister, a supposed Nellie Bluth. He hires her to work for the Bluth Company for a while, making several employees quite happy.
The actress playing Nellie, Justine Bateman, is the sister of Jason Bateman (who plays Michael Bluth).
Character history
Season three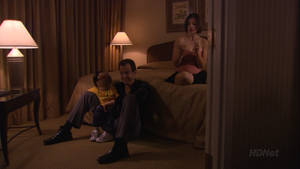 After discovering a bank account labeled "N. Bluth" and a baby photo of "Nellie", Michael was led to believe he had an estranged "Nellie Bluth" sibling. When George attempted to hold another Black Friday for the Bluth Company Michael discovered Nellie's info on an old computer. He hired her, thinking she was a consultant, to work for the Bluth Company. In reality she was a prostitute and acted as a therapist for many Bluth Company employees (who, like George and G.O.B. just cried on the floor). After she beckoned him, Michael came to her hotel room and discovered she was a prostitute and that her pimp "Frank" was Franklin Delano Bluth and G.O.B.. The next day, Nellie revealed that she used the N. Bluth account to pay the overdue paychecks of the Bluth Company employees and buy new computers, proving she wasn't a thieving Bluth family member. ("Family Ties")
Images
→ See 14 pictures of Nellie at Images of Nellie.
Appearances
Season One
—
Season Two
—
Season Three
"Family Ties"
Season Four
—
Season Four Remix
—
Season Five
—