Netflix is an online TV and film streaming service.
About
Netflix bought the rights in to broadcast the episodes of Arrested Development's fourth season. The episodes were a joint production between Netflix, 20th Century Fox Television, and Imagine Entertainment. The partnership was announced on November 18, 2011.
Netflix is the world's leading internet television network with over 100 million members in over 190 countries enjoying more than 125 million hours of TV shows and movies per day, including original series, documentaries and feature films. Members can watch as much as they want, anytime, anywhere, on nearly any internet-connected screen. Members can play, pause and resume watching, all without commercials or commitments.  
Netflix Media
Arrested Development Season Four
Main article: Season Four
Main article: 2013 Season Four Netflix Premiere in Los Angeles
The fourth season of Arrested Development premiered on the streaming service in all Netflix-supported regions on May 26, 2013 to "pleasing" viewship numbers to Netflix CEO Reed Hastings and Chief Content Officer Ted Sarandos. Mitch Hurwitz and Sarandos have stated multiple times in 2013 that they wish to work together to produce more Arrested Development, be it Season Five or a Movie. The first through third season are also available on Netflix's instant streaming service.
Arrested Development Season Five
Main article: Season Five
Main article: 2018 Season Five Netflix Premiere in LA
Season Five of Arrested Development will be released on Netflix in 2018. The first eight episodes are available to stream now! The entire original cast has been confirmed to return and will appear collectively together more frequently than in the previous season to solve the disappearance of Lucille 2. There are a total of sixteen episodes in Season Five, eight of the episodes will be released May 29 and the rest will be released later in 2018; in order for Arrested Development to be eligible for Emmy nominations in 2018.
Easter Eggs
After securing the rights to the fourth season, Netflix began hiding Arrested Development Easter Eggs throughout their library.
Fake TV shows and movies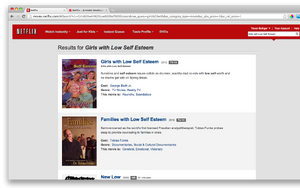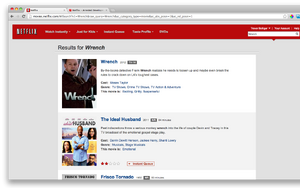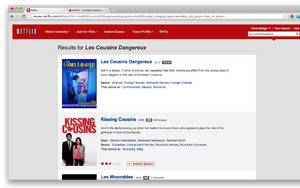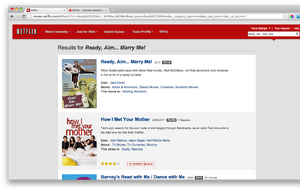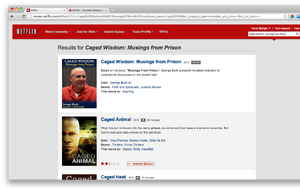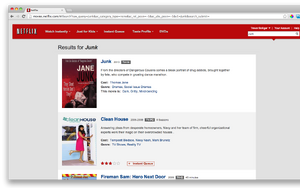 In December 2012, Netflix added 10 fake TV shows and movies to their library from Arrested Development. In March 2013 they added five additional titles. Selecting the titles would play clips from the relevant episode:
"Blue" search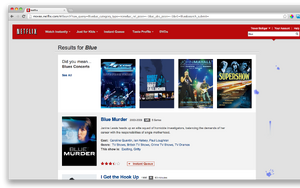 Searching for the word "Blue" will show a standard search results page with blue hand prints, as if Tobias had been present in the model home whilst in his Blue Man Group paint.
When clicked, a clip from "The One Where Michael Leaves" is played, showing the first time Tobias' is seen in blue paint.
Bananas as stars

When Arrested Development is in your instant queue, the stars appear as bananas. When clicked, it shows a clip from "Making a Stand".
Yellow bow tie

At the bottom of Netflix's website, a yellow bow tie appears. When clicked, a clip from "Hand to God" plays with Dr. Fishman giving the Bluth family bad news.
Milk note

In the "Popular on Netflix" carousel on Netflix.com, a note for milk can be seen if scrolled to the left. When clicked, it plays a scene from "Pier Pressure" about J. Walter Weatherman teaching the kids a lesson about leaving notes.
Character-based "Recently Watched"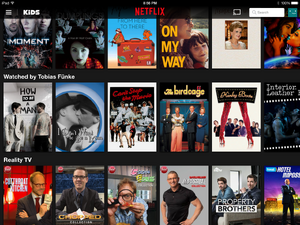 In November 2014 it was noticed that in the Netflix interface a section titled "Watched by Tobias Fünke" featuring gay-friendly titles including I Don't Want To Be a Man and The Birdcage. All 9 main characters have been spotted. See this Reddit thread for examples.
Arrested Development interface
For each of Netflix's original series, they design a customized interface for all streaming devices to show off the episodes and characters. For Arrested Development, they continued the orange shipping container motif used in the rest of their Season Four marketing materials.
Advertising
On the web, console, and tablet interfaces, Netflix advertised Arrested Development by highlighting the most popular clips from Seasons One through Three, as voted on by Facebook fans.
Mentions in Arrested Development
In the fourth season, several nods to the streaming service are hidden:
Promotional Videos
External links