New Warden is a screenplay written by Warden Stefan Gentles. It follows a simple revenge plot, closely mimicking George Bluth's escape from Orange County Prison.
The writing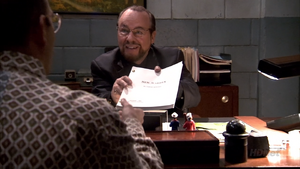 The first draft of the script was given to Tobias to give to Carl Weathers by Warden Gentiles when Tobias checked into Orange County Prison to research the roll of Frightened Inmate #2. It is unknown if it ever reached Mr. Weathers. ("Staff Infection")
Warden Gentiles rewrote it after George fooled him by having Oscar captured and sent to prison. Warden Gentiles missed a promotion and rewrote the script. ("Prison Break-In")
The story
In the script the warden (surprisingly similar to Gentiles) is fooled by an escaped inmate (surprisingly similar to George Bluth) who imprisons the inmates twin brother by mistake. The warden sets out for revenge, seducing the inmates wife (surprisingly similar to Lucille Bluth) and giving her chlamydia.
An earlier draft of the script had the warden giving the wife crabs. Lucille told Gentiles that chlamydia was a much better venereal disease to use as revenge.
A stage reading of the screenplay by some elementary school children was "very well received." Gentiles pitched the movie to Maeby Fünke of Tantamount Studios, who didn't bite.
Images
Quotes
Video