Officer David Carter is an officer in the local police force. His partner is Officer Taylor.
  Officer Carter: We decided we never want to know which of us is the real father

Character history
Season one
Michael is approached by Officer Carter and Officer Taylor at the Bluth Company offices about Kitty's disappearance. Officer Carter realizes their daughters have wandered of, it being Bring Your Daughter To Work Day, and heads off to find them. ("Not Without My Daughter")
Season two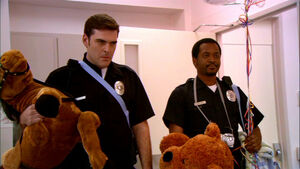 While Michael tries to figure out who the father of Maggie's child is, Officers Carter and Taylor continually approach him to make sure he's not harassing Maggie. ("Out on a Limb") After Loretta gives birth, Officers Taylor and Carter reveal to Michael that they hired Maggie to be a surrogate mother for them and that they didn't want to know who the true father was (even though Carter is black and Taylor is white). They take their baby and leave happily. ("Hand to God")
Images
→ See 15 pictures of Officer David Carter at Images of Officer David Carter.
Appearances