Officer Taylor:
Well, we're here investigating the disappearance of
Kitty Sanchez
. Apparently, you're the last person to see her. Alive. Or around town or whatever.

From "Not Without My Daughter"
Officer Taylor is an officer in the local police force. His partner is Officer David Carter. Although Michael is usually an honorable citizen, when he makes mistakes Officer Taylor is there to catch him in the act.
Character history
Season one
After G.O.B. sinks the Lucille with Kitty on board, Michael is approached by Officer Taylor about her whereabouts. ("Missing Kitty") Michael is approached by Officer Taylor and Officer David Carter at the Bluth Company offices about Kitty's disappearance on Bring Your Daughter To Work Day. ("Not Without My Daughter")
Season two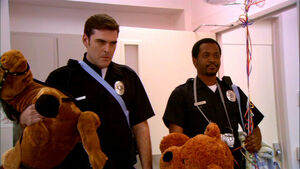 When George Bluth is on the lam, Officer Taylor and other officers often mistake Oscar Bluth to be George and tackle and beat him with their billy clubs. ("The One Where Michael Leaves")
While Michael tries to figure out who the father of Maggie's child is, Officers Taylor and Carter continually approach him to make sure he's not harassing Maggie. ("Out on a Limb") After Loretta gives birth, Officers Taylor and Carter reveal to Michael that they hired Maggie to be a surrogate mother for them and that they didn't want to know who the true father was (even though Carter is black and Taylor is white). They take their baby and leave happily. ("Hand to God")
Season four
Officer Taylor arrested Tobias during an episode of John Beard's To Catch a Local Predator. He also arrested Buster under suspicion of murdering Lucille Austero.
Officer Taylor also participates in Tony Wonder's Escape from the Closet Illusion during Gay Night at the Gothic Castle. ("A New Attitude")
Season Five
Taylor is last seen in the season finale in a poster for Guys and Dolls. He is starring in the movie as "Rusty Charlie". ("The Fallout")
Images
→ See 22 pictures of Officer Taylor at Images of Officer Taylor.
Appearances
Community content is available under
CC-BY-SA
unless otherwise noted.