Almost every episode ends with an epilogue segment called "On the next... Arrested Development" in which lingering stories are wrapped up or extended humorously. These segments portray events that do not usually appear in the subsequent episodes, but remain part of the show's canon.
However, on some rare occasions (typically in the first half of a two-part episode), scenes from these portions are worked into the following episode; also, the segment occasionally shows a significant plot twist (e.g. Maggie Lizer's deception, Buster's accident, Steve Holt's discovery). The second episode of Season Three reversed this by having "Previously on..." featuring the resolution of the cliffhanger and nearly an entire episode of plot changes within thirty seconds.
The epilogue sometimes shows a several-second continuation of the previous scene, in comically direct opposition to the name of the sequence. Notably, the season 5 episode "An Old Start" does not include an epilogue at all.
The first and second season finales changed the segment to "On the next season of... Arrested Development" and in the third season finale it became "On the epilogue...".
Season One
"George Michael gets a new roommate and Michael finds it difficult to get his father out of jail."
"G.O.B. protests the pet stores frozen-dove exchange policy, and Michael, realizing the banana stand is the only profitable part of the the Bluth Empire, decides to rebuild."
"Tobias talks Lindsay into another session, and George Sr. makes good on his promise to come clean on the international accounts."
"George Michael and Maeby sneak back into Les Cousins Dangereux and Michael's insurance takes another hit."
"The Alliance decides to let G.O.B. back in, and Tobias gets some good news."
"George Michael begins an investigation, Tobias faces his greatest acting challenge, and Buster rebounds from Lucille 2."
"Tobias quietly overcompensates."
"Buster's competition heats up."
"Tobias gets an insight into fear, and the employees find a new direction"
On the next season of... Arrested Development
"The family grapples with the news they had just heard, Maeby's life gets a little more complicated, and Kitty helps George Sr. escape."
Season Two
"Lindsay almost stumbles upon a dating opportunity but instead is admitted to the hospital with a fever of 104. Michael finally gets the corporate checkbook, only to find that the family has gotten to it first, and Barry lands in jail."
"Lindsay finds out the true identity of her homeless man. And even though Lindsay didn't know who that was, hearing that he wasn't homeless was good enough for her. And Lindsay, crushed and alone, for the first time missed her husband Tobias."
"Buster reclaims his favorite chair but the victory is short-lived. And Tobias gets medical attention."
"Buster finds out about the death of Captain Kangaroo, Michael grows weary of caring for his father, and G.O.B. finally makes the cover of Poof magazine."
"Oscar returns to find a now distant Lucille which was what attracted him to her in the first place. Lindsay reconciles with her daughter. Tobias, traumatized by the public exposure, returns to an unfortunate quirk."
"The Blue Man Group finally calls for Tobias with a life-changing opportunity. Unfortunately, he can't hear it and his life stays the same."
"Maeby gets her father a job and Buster visits the general."
"Lucille 2 reclaims some space, the Queen Mary changes hands once again and G.O.B. gets needy."
"George Sr. shows up to bid on Lucille but the sound of his wolf call and the smell of chicken teriyaki interfered."
"Uncle Jack buys the company, but makes some changes of his own, Tobias listens to a day's worth of his own words, to see what Michael was referring to and he realized there is something distinct about the way he speaks."
"Barry gets a big break on his case and for the first time, Lucille prays. And Buster is on his way when he decides to pursue a long-delayed rite of passage and then a seal bites off his hand."
"Buster and G.O.B. find themselves closer than ever and Maggie gets a big surprise."
"Lindsay finds herself strangely compelled to be with Tobias, but not the one she's married to. Having finally had sex, G.O.B. can admit that he never consummated their marriage but then G.O.B. caught a lucky break but it didn't last long. And Maeby impresses the kids at the Promise Land with her one scary campfire story."
"Lucille finds a housekeeper that she won't lose her son to and Steve Holt finally tracks down his real father."
"Michael gets a new roommate and the FBI finds footage more troublesome than they'd originally thought."
"Buster finds someone else interested in kissing his hook so Buster gets a hook replacement."
"Lucille gets some disturbing information and Kitty finds what she's been looking for."
On the next season of... Arrested Development
"Oscar, robbed of his fingerprints, has difficulty proving his identity, Tobias and Kitty go to Vegas, only to find that his dream job has been filled, and George, Sr. turns out to be right about the effects of stress."
Season Three
"Lucille arrives at the cabin, Maeby finds someone to help her forget her cousin ...her cousin. And Lindsay catches up with Tobias."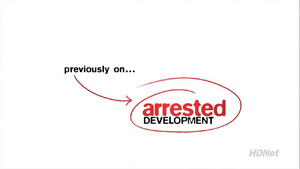 Previously on... Arrested Development
"Michael and his son were camping out at the family cabin before it was to be relocated. [...] But Pop-Pop had other plans. And Michael awoke to find his camping trip going south. And that was when George, Sr. made a desperate plea. Michael didn't send his father back to prison but instead arranged for him to be placed under house arrest which made this woman his warden."
"Lindsay tries to work off her debt with Bob Loblaw and a traumatized Steve Holt needs a father."
"Buster signs up Steve Holt up for the Army and George, Sr. finds out that a fake Popemobile can't stop real bullets."
"George, Sr., disoriented in the walls, almost makes contact with a new mole... Not that one. Wait for it... and Michael and Rita start a new life together."
"Michael relives a wedding nightmare."
"George Michael gets closer to his family, George Michael experiences his unhappiest moment ever, Buster tries to forget his recent losses by breaking out the old guitar, and G.O.B. finally faces a phobia he'd faced before."
"Maeby finds a way to scare an entire generation."
"The Bluth family gets some good news."
"Mock Trial with J. Reinhold leads to imitators and Michael discovers that he wasn't "N. Bluth" after all. So much for not abandoning family."
"G.O.B. has a religious conversion and Buster's fake coma is put to its greatest test. Oh, my."
"Tobias gives his daughter the gift he'd stayed up all night making and Michael and G.O.B. make an interesting discovery."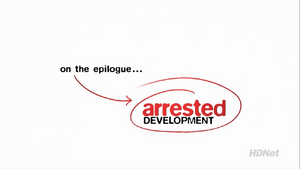 On the epilogue...
"Michael wakes up to another strange bedfellow after his first night at sea and Maeby pitches her TV show to a Hollywood icon who says..."
Ron Howard:
 No, I, uh... I don't see it as a series. Maybe a movie. 
Season Four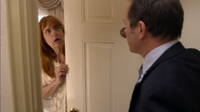 ""Lindsay surprises Michael, after a long absence from his life. And George Sr. get more confortable in hiding."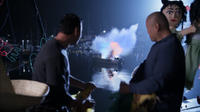 "Tobias faces an awful truth. Lindsay remembers she's on a boat... that Marky had intended to bomb. And it turns out to be kind of romantic bomb... that Lindsay and Tobias have matching suitcases."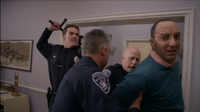 "footage."
""Gob gets an important call; from his mother. And even though Gob hadn't taken a forget-me-now; the night before... it seems Tony Wonder had. And this happens..."
Season Five