Pop-a-R.O.T.C. is a teen television show staring Mark Cherry.
About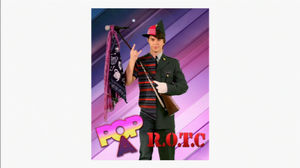 The show's title is a play on the word "paparazzi" and the acronym R.O.T.C. (Reserve Officers' Training Corps) which is often pronounced "rotsee". The premise appears to be that Cherry's character is a R.O.T.C. cadet by day, pop singer by night. The show gave Cherry his big break into the music scene with his song "Practice Kisses". ("Colony Collapse")
The show, and the character of Mark Cherry in general, are poking fun at the Disney Channel and Nickelodeon Channel stars who get introduced to young audiences on outlandish music-concept shows before releasing hit pop songs, such as Miley Cyrus or Selena Gomez.