The RMS Queen Mary is a retired ocean liner that cruised the Atlantic Ocean from the 1930s to the 1960s. It is now permanently moored at the port of Long Beach, California.
About
When some Bluth Company funds are unfrozen, Tobias Fünke purchases a club named the "Queen Mary" which G.O.B. assumes is the RMS Queen Mary. Tobias wanted to name the bar "Tobias' Queen Mary" but it was accidentally named "Tobias is Queen Mary". ("Queen for a Day")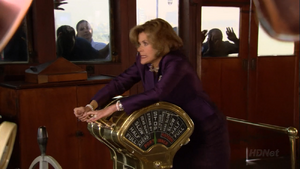 To celebrate George's exoneration the Bluth family throws a party. Tobias rents the RMS Queen Mary thinking it is another branch of the Queen Mary nightclub. Buster is afraid of it due to his crippling fear of the ocean, thanks to a loose seal. At the party, Buster wears a life preserver and always holds on to the ship. He even sits in a life boat, but he accidentally falls into the ocean and is confronted by the seal again when Lucille has the Hot Cops "shovel coal" in the steam room as she attempts to flee from the SEC. ("Development Arrested")
As the SEC chased Lucille down on the RMS Queen Mary, Lucille got the Hot Cops to shovel coal in the engine room while she steer the boat out to sea. Buster fell overboard but she kept going until Lucille Austero called her and mocked her about her arrest. Due to "sea rage" Lucille decided to turn the boat around to have the last laugh against Lucille 2, but the Queen Mary capsized. ("Queen B.")
Images
External links
Community content is available under
CC-BY-SA
unless otherwise noted.