Ready, Aim... Marry Me! is a 1940's action-romance film starring Jack Dorso as Bullet and Gloria Grahame.
About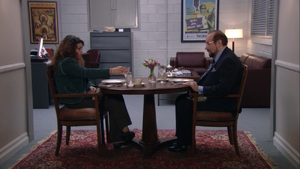 Ready, Aim... Marry Me! was Jack Dorso's first forray into the pictures after an illustrious radio career, as well as his first solo endeavor without Red McGibbon from Red McGibbon and Bullet: Nazi Hunters. The film was not a hit. ("Ready, Aim, Marry Me")
The film's poster is seen in Warden Stefan Gentles's office at Orange County Prison. ("Prison Break-In")
Notes
Gloria Grahame was a movie star during the 1940s and '50s, starring against Stewart Reed, Humphrey Bogart, and Gordon MacRae in some of the most popular films of the eras.
Community content is available under
CC-BY-SA
unless otherwise noted.