Rebel Alley is Ron Howard's daughter and an aspiring actress. She has her wild side but also has a four year old son, Lem, who usually lives in France with his father. Rebel plays the bagpipes in a band and is a romantic interest for both Michael Bluth and his son George Michael Bluth, whom she thinks is Fakeblock software genius George Maharis.
Rebel appears in 15 episodes over Season Four and Season Five and is portrayed by Isla Fisher.
About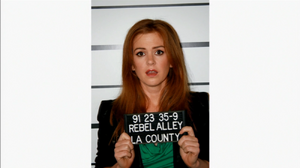 Rebel is the illegitimate daughter of Ron Howard, named after where she was conceived. ("The B. Team") She is a literal rebel and has run-ins with the law. ("Double Crossers") She used to be a rowdy party girl in Southern California but settled down a bit when her son Lem was born in 2008. ("Colony Collapse") Because of her reckless lifestyle she had to appear in multiple PSAs. ("Double Crossers") ("Colony Collapse") ("Blockheads") She is an aspiring actress who has appeared in several movies including Almost Cousins, ("Blockheads") a Woody Allen film, and a Terrence Malick film. ("Double Crossers")
Character history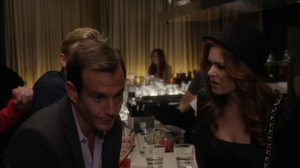 Season four
One night in June 2007 G.O.B. entertained Mark Cherry at the club and Jeremy Piven. A very wild Rebel was there partying and screamed "fire!" when G.O.B. performed his lighter fluid illusion. (4x7 — "Colony Collapse")
Five years later on April 20, 2012 Maeby caught up with Rebel at the The Opie Awards. She bragged about Fakeblock even though George Michael told her not to. (4x12 — "Señoritis") George Michael introduced himself as George Maharis to Rebel then nonchalantly walked away, not wanting to talk about Fakeblock. After Marky Bark's explosion killed Schnoodle, Mort Meyers told Rebel George Maharis was to blame. (4x13 — "It Gets Better")
The next day Michael met with Ron Howard who told him about "his girl" Rebel and greenlit the Untitled Michael B. Project. Outside the offices of Imagine Entertainment Michael ran into Rebel, fresh from an audition, and bragged that he was a movie producer. She invited him to the Ealing Club to see her band. Michael walked off and realized he never caught her name. The following evening Michael attended her concert and the two made out in a photo booth. He learned her name was Rebel from her tattoo and was shocked as he thought she was Ron Howard's lover. (4x4 — "The B. Team")
The next day, George Michael waited for his father at Ealing Club. Rebel saw him from across the bar and they struck up a conversation as George Michael tried to keep up his identity as 'George Maharis.' (4x13 — "It Gets Better") After returning from an extended game of dishonest phone-tag George Michael and Rebel hid in a photo booth from their fathers and kissed. (4x15 — "Blockheads")
The next day Michael took Rebel to the Balboa Club using George's card. Lindsay showed up with right-wing politician Herbert Love, with whom Rebel bickered. (4x8 — "Red Hairing") A lonely George Michael called Rebel and asked her to come over. (4x15 — "Blockheads") Rebel received the call and left Michael. (4x9 — "Smashed") Rebel arrived at George Michael's dorm and they made love. The next morning Rebel left the dorm. (4x15 — "Blockheads")
The next day Tobias, eager to get the rights for Fantastic 4: An Action Musical encouraged Michael to visit Ron Howard to get his permission to see Rebel. Ron was horrified that Michael thought Rebel was Ron's lover and promised to keep Rebel from Michael. (4x9 — "Smashed") After being kicked out of his dorm by P-Hound, George Michael moved into Sudden Valley. Rebel visited him and thought he was getting too serious so asked for some space. (4x15 — "Blockheads")
The following day, Michael took flowers to Rebel's house and talked with her son Lem. He saw a flower from 'George' and found the dead dove from 2007 in her freezer. (4x10 — "Queen B.") He thought it was G.O.B. but later learned it was not him. (4x11 — "A New Attitude")
George Michael told Maeby that he and Rebel were on the outs. He then fired her for investing too much money in Fakeblock. A bitter Maeby told Michael how to get Rebel. Michael went to Rebel's house and acted entirely uninterested in her, causing her to be attracted to him. After making love he stole a photo booth picture from her dresser and was horrified to discover that George Michael was the other man. (4x15 — "Blockheads")
Michael drove to Sudden Valley to deal with G.O.B. but found his son in his new Austero Bluth Company home. George Michael brought up his relationship woes and Michael had to pretend he didn't know it was Rebel. (4x15 — "Blockheads")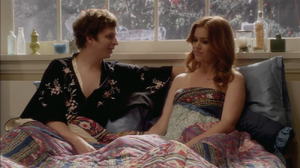 On the night of Cinco de Cuatro George Michael found a note from 'Anonymous' on his microphone promising he'd get 'screwed' if he continued to talk about Fakeblock. Thinking it was Rebel promising sex, he continued to lie that his software was real. He then went to Rebel's house and they made love. (4x15 — "Blockheads")
The next morning, Michael woke up from his forget-me-now slumber and called Rebel who was still in bed with George Michael. She told him to come over later. (4x11 — "A New Attitude") George Michael then told her he wanted to get serious with her and she lied and said she too was ready to get serious. George Michael left and ran into his father outside Rebel's house. George Michael was appalled they were both seeing Rebel and caught his father in a lie. Upset his father knew he was the other man, George Michael punched his father square in the face. (4x15 — "Blockheads")
Images
→ See 53 pictures of Rebel Alley at Images of Rebel Alley.
Appearances