Ron Howard (born March 1, 1954) is an American film director, producer and former child actor. He appears as himself in the Season Three finale "Development Arrested", in six episodes of Season Four, in the Season Five episodes "Emotional Baggage" and "The Fallout (photo only)".
Character history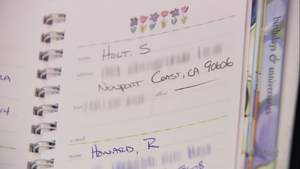 Season three
Ron Howard's contact info is found by George Michael in Maeby's address book. ("Exit Strategy")
Maeby and Mort meet with "a Hollywood icon" (according to the narrator) to pitch a television series about the Bluth family. Howard responds that he potentially sees it as a movie. ("Development Arrested")
Season four
After reading an article about Michael Bluth and his failed Michael B. Company in an issue of Altitude Ron Howard contacts Barry Zuckerkorn and tells him to have Michael meet at the offices of Imagine Entertainment. In the LEM inside his office, Ron tells Michael to get his family's releases, and mentions that he has an illegitimate daughter named Rebel but Michael mistakenly assumes he means she is his mistress. Michael tries to fast track the Untitled Michael B. Project by casting Andy Richter and Carl Weathers and having Stefan Gentles write the script but Ron and Brian Grazer send Michael down to Orange County Imagine to get the rest of the signatures. (4x4 — "The B. Team")
Michael gets his father's release and outside the Ealing Club Ron tells him the father-son dynamic is not about Michael as the son, but as the father. (4x4 — "The B. Team") A few days later Michael runs into Ron again at the Ealing Club and Ron doesn't recognize him. A bored Ron walks away while Michael talks about his issues with his son. (4x13 — "It Gets Better") ("Blockheads")
While working on Fantastic 4: An Action Musical Tobias is told to get the rights to Fantastic Four. When Michael tells Tobias he is afraid of jeopardizing his film for dating Ron Howard's mistress Tobias urges him to talk to Ron in person. Ron is appalled that Michael thinks Rebel is his mistress, not his daughter. Tobias asks for the rights to Fantastic 4 but Ron refuses so Tobias chokes him. (4x9 — "Smashed")
After Buster is arrested for murdering Lucille Austero Ron and Brian Grazer celebrate for having his film rights, claiming the movie about him will be their next Da Vinci Code. (4x15 — "Blockheads")
Season five
Ron Howard appears in Season Five and is introduced to George Michael by Rebel at a family BBQ. He also meets with Michael and tells him he wants to change the Bluth movie into a true crime TV series. Many of Ron's real family members appear at the BBQ, and Bryce Dallas Howard tells Michael that Rebel is using George Maharis for his internet company. After meeting Ron's dad, Michael agrees to do the series, and Ron gets him "standard TV contracts" to sign for a streaming series about the Bluths.
Images
→ See 66 pictures of Ron Howard at Images of Ron Howard.
Appearances