Scandalmakers is a television show that features re-enactments of real life scandals. One episode deals with the events surrounding the Bluth family, called "Blurred Truth: The Bluth Family Scandal". The Narrator suggests that Scandalmakers' is poorly narrated.
Appearances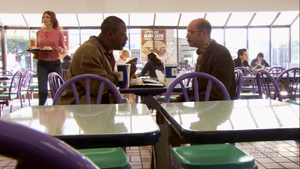 Carl Weathers meets with Tobias at a Burger King to discuss signing over the rights to the Bluth family story for an episode of Scandalmakers. Tobias agrees if he can have the role of George Bluth. Carl Weathers directs the episode of the reality show, starring Dave Attell as Tobias, and unknown actors as Kitty and Annyong. ("Motherboy XXX")
The episode is broadcast, leading to Cal Cullen being hesitant to make a deal with the Bluth Company, as well as leading Kitty to discover George in the model home's attic. Mr. Bananagrabber (as well as pictures from the show's opening) are seen in the opening credits. ("Spring Breakout")
A flashback to Tobias portraying George Sr. is shown when Tobias is asked by the FBI to "capture" George Bluth. ("Mr. F")
When Michael is looking to get the movie rights to his family's story, he contacts Carl Weathers because of the Scandalmakers episode he directed. It turns out Carl Weathers did not actually secure the rights to the Bluth family's story, which prompted a subsequent Scandalmakers episode titled "Weather's Permit-ing: The Scandalmaker's Maker's Scandal", directed again by Weathers himself. ("The B. Team")
Quotes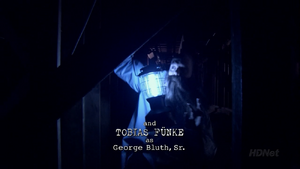 Narrator: Due to poor acting, the burden of the story was placed on the narrator.
Scandalmakers Narrator: ...only to be found hiding under one of the homes that he himself built.
Narrator: He was actually found in a hole near the house, but this inattention to detail was typical of the laziness the show's narrator was known for.
Tobias: I cannot survive under the house. Perhaps an attic shall I seek.
Narrator: Real shoddy narrating. Just pure crap.
From "Spring Breakout"
Images