Season Four was in pre-production and production through most of 2012 and post-production in 2013 before its May 26, 2013 release. Production worked differently than on previous seasons because they did not have exclusive access to the entire cast, so all episodes were written in advance and production worked around each actor's schedule.
Announcement
At the 2011 New Yorker Festival Reunion on October 2, 2011, Mitch Hurwitz and the cast announced plans to do a mini season leading up to the movie. - Jason Bateman confirmed on Twitter:
Jason Bateman: It's true. We will do 10 episodes and the movie. Probably shoot them all together next summer for a release in early '13. Very excited!  
Pre-production
On November 18, 2011 it was confirmed that Netflix would exclusively license an unspecified number of new episodes for an early 2013 debut on its streaming video service. The episode count was estimated to be 9 or 10.
On January 30, 2012 it was confirmed that the original writers, including Mitch Hurwitz, Jim Vallely and Dean Lorey, and the entire original cast had agreed to the new season. Lorey even confirmed that pre-production had begun for a 2013 release.

On April 17, 2012 it was announced by Ted Sarandos, Netflix's Chief Content Officer, and Mitch Hurwitz that the entire Season Four would be released on Netflix in a single day. It was also announced that the episodes would contain some form of mystery.
Mitch Hurwitz: This way, instead of watching it week after week, hopefully people will go back and look for clues.  
Production
During late July Jason Bateman and Ron Howard began tweeting behind-the-scenes peeks of preproduction on their @batemanjason and @RealRonHoward Twitter accounts, including pictures of Michael Cera on sets being constructed. On August 7 it was announced that production had begun on the first episode of the fourth season.
On August 24 Netflix announced that the season would be released in Spring 2013. In an interview, David Cross stated that he believed there could be up to 13 episodes in the season, and that the story is very complex and "amazing".
On September 4 Hurwitz stated in an interview that the season may or may not be all released at once, and that they hadn't nailed down the final episode count yet. He revealed that they would most likely continue to be "tastefully tasteless" in regards to the [bleep]ing and censorship. 
On December 12 Netflix announced that they had boosted the episode count to 12-15, depending on Mitch Hurwitz's ability to expand the already filmed scenes into fully fledged story lines. Additional shooting occurred in January 2013.
On January 9, 2013 at the 2013 Television Critics Association Panel Hurwitz revealed more information about the nature and production of the fourth season. To delight fans, the cast and crew have kept as much secret about the season as possible. Even the original announcement of 10 episodes was a white lie — fourteen were planned from the start. Michael Cera was brought into the writer's room and quickly became an integral member of the writing team. 
The season was filmed out of order, depending on the availability of the cast members. Due to other film and television contracts certain actors could only appear in a limited amount of episodes. Additionally, cast member availability was staggered which dictated the writing process. Mitch Hurwitz and newcomer Troy Miller co-directed all episodes together.
Mitch Hurwitz has confirmed that 20th Century Fox owns the property and may release DVDs in the future. He also confirmed that the bleeping would return and that each episode would be around 30 minutes long. Some jokes and locations would return, but the writing staff was intent on making the show fresh rather than a series of "greatest hits".
BluthWalkOn contest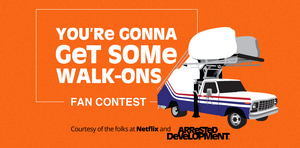 As one of their first marketing efforts, on October 4, 2012 it was announced online via Facebook, Twitter, and press release that Netflix was going to five six Arrested Development fans the opportunity to win a walk-on role in the fourth season. All that was required was a submission of an "original piece of Arrested Development content", ranging from videos, artwork, and photos. All entries required the use of the #BluthWalkOn hashtag. Entries were promoted on youregonnagetsomewalkons.com. The winners were announced in November 2012.
Post-production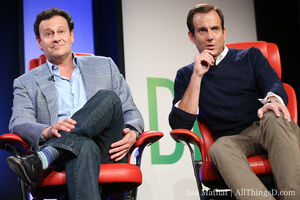 Principal photography wrapped in December 2012 and several reshoots were filmed in early 2013.
Hurwitz and several cast members attended several reunions and press conferences, including the 2012 NAB Reunion, the 2013 TCA Reunion, the 2013 D: Dive Into Media Reunion and the 2013 SXSW Reunion.
Ron Howard and Brian Grazer revelaed in an interview in March 2013 that they would appear as themselves in the fourth season, working on a Bluth family movie.
On April 4, 2013 it was announced via press release that the season would be 15 episodes long and premiere on May 26, 2013 at 12:01am PDT (53 days from the announcement date). Said Hurwitz:
Mitch Hurwitz: We are doing something very ambitious that can only be done with Netflix as partners and on their platform. Finally my simple wish for the show is coming true: that it be broadcast every second around the clock to every television, computer or mobile device in existence.  

The "Orange Carpet Premiere" was held at Grauman's Chinese Theatre in Los Angeles on April 29, 2013. The London Orange Carpet Premiere was held at Leicester Square in London May 9, 2013.
In May 2013, Mitch Hurwitz encouraged everyone to watch the 15 episodes in order. In October 2014 Hurwitz announced he was re-editing Season Four to be in chronological order. No further information on how it would be released or the scope of the re-edit was revealed. (Source.)
Media Set Images
The following behind the scenes images can be seen in numerous Magazines and Newspapers, including: Entertainment Weekly, Pop Sugar, DailyMail and The Huffington Post.
Cast on Set Images
The following images were snapped by cast, crew, or fans during the filming of Season Four:
Ron Howard's Behind the Scenes tweets
Ron Howard tweeted several behind-the-scenes images from Season Four.
References
Community content is available under
CC-BY-SA
unless otherwise noted.