The third season of Arrested Development aired between September 19, 2005 and February 10, 2006 on FOX.
Story
George Sr. is in house arrest in the apartment, and he itches to escape again. The Bluths learn many secrets about their family, but ultimately prove they are disaster prone. In the end, Buster falls in love and becomes the family's hero, and Michael and George Michael attempt to leave the family behind them.
Cast
Main
Episodes
1 | 41
Michael postpones camping with his son to look for his father in Reno. Meanwhile, Lucille goes off her medication; G.O.B. meets a fellow disappointed son; and Maeby and George Michael can't help being thrown together.
2 | 42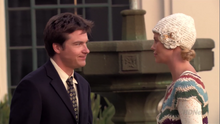 Investigating his father's claim that a British group set him up, Michael goes to "Wee Britain" and is smitten with a beautiful woman named Rita. Lindsay attempts to seduce the new family attorney, and G.O.B. goes to extremes to avoid his newly discovered son.
3 | 43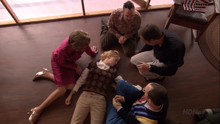 Directed by: John Amodeo - Written by: Tom Saunders
Michael tries to hide Rita from his family with disastrous results; Lindsay waits hand and foot on the Bluths' new lawyer; George Sr. attempts escaping via balloons; Tobias tries to help Buster gain some self-confidence; George Michael confronts Steve Holt about Maeby.
4 | 44
Michael enters a father-son triathlon with Steve Holt; Maeby dons a disguise to compete in an inner-beauty pageant while her parents coach other entrants; George Sr. speaks to at-risk youths, and Buster tries to recruit one to replace him in the Army.
5 | 45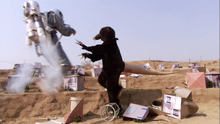 Moles underground alert the Bluths to a mole in their company; Tobias mistakes a CIA agent for a theatrical one.
6 | 46
Directed by: Paul Feig - Written by: Jake Farrow & Sam Laybourne
Michael's parents disapprove of him marrying Rita until a revelation from her uncle.
7 | 47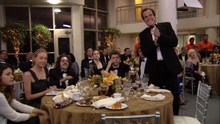 Directed by: Robert Berlinger - Written by: Karey Dornetto
Michael is worried when he learns that Lucille is dating the warden behind his father's back; Buster's new turtle gets into "Uncle-Father" Oscar's stash; the family plans a benefit for Tobias' life-endangering hair transplant.
8 | 48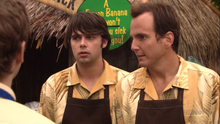 Michael and G.O.B. set out to teach their father a lesson for his years of pitting them against each other; Lindsay and Tobias compete over Bob Loblaw; Lucille's post-op appearance inspires Maeby.
9 | 49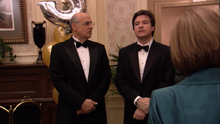 The Bluths try to save themselves with a party featuring Andy Richter, whose quintuplet brother teaches George Michael; G.O.B. accidentally lands a job.
10 | 50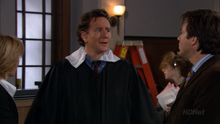 Judge Reinhold presides over George Sr.'s mock trial, and Michael worries about a surprise witness. Meanwhile, a coma keeps Buster from testifying.
11 | 51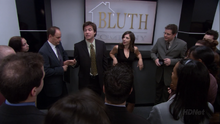 Directed by: Robert Berlinger - Written by: Ron Weiner
When Michael hires a woman who may be his sister, her services might be just what the company needs. Meanwhile, Buster's coma attracts the attention of a politician.
12 | 52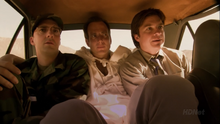 The Bluth boys find a web of mass deception in Iraq when Michael and Buster rescue G.O.B., who was imprisoned while on a USO tour. Meanwhile, George Michael plans a Sweet 16 surprise party for Maeby.
13 | 53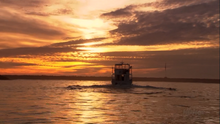 Lucille throws a yacht party to celebrate the family's recent success, but the Bluths learn the sailing is still far from smooth.
Awards
The show received four 2006 Emmy nominations:
The show also has a spot on Time Magazine's 100 Greatest Shows of All Time.
DVD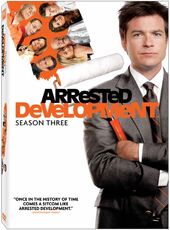 The two disk DVD was released on 2006-08-29. Special features include:
Commentary on 3 episodes by creator Mitchell Hurwitz and the actors:
19 deleted and extended scenes
Season 3 Blooper reel
"The Last Day on Location" featurette
Character Promotional Photos
→ See 14 pictures of Season 3 Character Posters at Images of Season 3 Character Posters.
Videos
Behind the Scenes
Community content is available under
CC-BY-SA
unless otherwise noted.